Legislation would make unionizing easier
Posted May 14, 2018
Senator Sanders and Representative Pocan have introduced legislation that would change the way employees could unionize and how employers would need to respond. The Workplace Democracy Act (S 2801/H5728) introduced May 9, 2018, would:
Expedite unionization by allowing unions to organize through a majority sign-up process (card check) rather than through a secret election ballot, allowing the National Labor Relations Board (NLRB) to certify a union if it receives the consent of the majority of eligible workers.
Enact "first contract" provisions to require employers to begin negotiating within 10 days of receiving a request from a new union. If no agreement is reached after 90 days of negotiation, the parties can request to enter a compulsory mediation process. If no first contract is reached after 30 more days of mediation, the parties would have a contract settlement through binding arbitration.
Eliminate the "Right to Work" laws by repealing Section 14(b) of the Taft Hartley Act, which has allowed 28 states to pass legislation prohibiting unions from collecting fees from employees who choose not to pay union dues.
Expand the definition of "employer" to include those who exercise any control over a worker's day versus that of independent contractors. Individuals would be employees unless the services they perform are outside the usual course of the employer's business. This would extend collective bargaining rights to gig workers.
Allow for secondary boycotts and picketing, where unions target an employer's clients as a way to put pressure on the employer.
Expand and update the persuader rule. Employers would be required to disclose union-related information they disseminate to workers, including funding third party anti-union consultants, who would have to register. Employers would need to share whatever contact information (email, phone, mailing addresses) use with union organizers and employers would be prohibited from forcing workers to attend campaign activities that are unrelated to the employee's job duties.
Increase penalties for employers that fire workers for union organizing and streamline the process for employees to seek legal action against employers.
The House version had 16 cosponsors shortly after being introduced, while the Senate version had 12. The bill, however, is not likely to succeed in the current administration. Such measures can, however, help foretell goals of some members of Congress.
This article was written by Darlene M. Clabault, SHRM-CP, PHR, CLMS.
---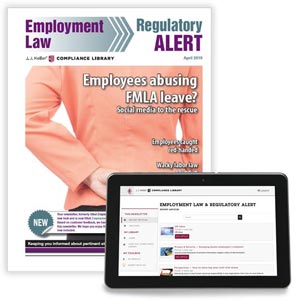 J. J. Keller's Employment Law Today newsletter explains why you need to care, what you need to do and how your business could be affected by HR industry news.
---
J. J. Keller's FREE HRClicks™ email newsletter brings quick-read human resources-related news right to your email inbox.