California tells fuel producers it is serious about the state's fuel standards
Posted May 2, 2018
The California Air Resources Board (CARB) fined three companies a total of $785,000 for violating provisions of the Low Carbon Fuel Standard (LCFS). The LCFS went into effect in 2011, requiring companies producing fuel for use in California to lower the carbon in their production process 10 percent by 2020.
Fuel suppliers must meet an annual clean fuel target for vehicle fuels sold in the state. Producers can earn marketable credits by selling individual fuels that are below the annual target. On the other hand, fuels that are above the annual target generate deficits. Producers that are unable to supply enough low-carbon fuels in a year to meet the annual target must buy credits from other fuel suppliers in the marketplace to make up the deficit. One of the companies fined by CARB had failed to cover its deficit in 2014.
In addition, all fuel producers are required to accurately report the types of fuel produced for sale in California and transactions for sale of that fuel. CARB took the other two companies to court for failing to accurately report their sales. One of the companies was fined for inaccurately reporting the type of fuel sold, which led to it receiving unearned credits.
CARB says the LCFS is a critical tool for achieving the state's 2020 greenhouse gas (GHG) emission reduction goal of a return to 1990 levels. Further, the state must reach legislatively mandated levels of a 2030 reduction goal of 40 percent below 1990 levels and a 2050 target of reductions 40 percent below 2030 levels.
Starting in 2021, CARB is amending the LCFS to require fuel producers to reduce emissions an additional 20 percent by 2030. The amendments also add alternative fuels, such as jet fuels, to the program, along with a third-party validation program. Another amendment will create a variety of credits and partial credits for electric vehicle electrification to promote the development of an electric vehicle infrastructure.
---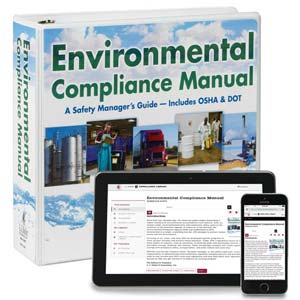 J. J. Keller's Environmental Compliance Manual is packed with easy-to-understand information on regulations, environmental issues and compliance.
---
J. J. Keller's FREE Workplace SafetyClicks™ email newsletter brings quick-read workplace safety and compliance news right to your email box.