Alabama staffing agency to pay $50K to settle sex discrimination lawsuit
Posted May 12, 2017
An Alabama-based staffing agency, will pay $50,000 and furnish other relief to settle a sex discrimination lawsuit filed by the U.S. Equal Employment Opportunity Commission (EEOC), the agency recently announced.
The EEOC charged in its suit that the company subjected a job candidate to discrimination based on her gender. The agency alleged that on July 11, 2012, the applicant attended a career fair in Lafayette, Louisiana, and attempted to apply for a shipping-and-receiving position with an employer for whom the company was recruiting and referring multiple applicants.
The recruiter refused to interview the candidate or consider her for these open positions, telling her, "This is a man's job," the job is "not suitable for women," and "the work is difficult." The company referred approximately 55 applicants to that employer between June and December 2012, only one of whom was female, the EEOC charged.
Such alleged conduct violates Title VII of the Civil Rights Act of 1964, which protects employees and applicants against discrimination practices based on sex. The EEOC filed suit in U.S. District Court for the Northern District of Alabama, Southern Division, after an investigation was completed by the EEOC and after the agency first attempted to reach a pre-litigation settlement through its conciliation process. The agency sought back pay for the candidate, along with compensatory and punitive damages and injunctive relief.
According to the terms of the consent decree settling the suit, which was approved by the court on May 4, 2017, the company will pay $50,000 to settle the lawsuit. The agreement also requires the company to actively promote supervisory accountability for discrimination prevention; provide antidiscrimination training specific to those company managers and employees who play a role in the hiring process; and provide bi-annual training reports to the EEOC for two years in company's locations in Birmingham and Baton Rouge and New Orleans, La.
---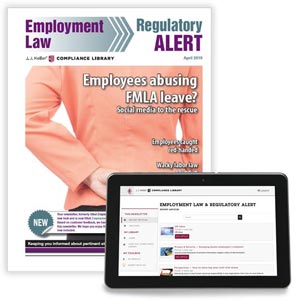 J. J. Keller's Employment Law Today newsletter explains why you need to care, what you need to do and how your business could be affected by HR industry news.
---
J. J. Keller's FREE HRClicks™ email newsletter brings quick-read human resources-related news right to your email inbox.