OSHA trenching campaign aims to educate employers, workers of excavation hazards
Posted April 28, 2023
Last year, 39 people died while performing trench or excavation work, including four in Illinois and two in Ohio, which continues a worrying trend. To address injuries and fatalities in the industry, OSHA is launching an outreach campaign in its Midwest Region 5, which includes Illinois, Indiana, Michigan, Minnesota, and Ohio. The campaign is a collaboration with employers, workers, state agencies, and industry associations to reduce and prevent serious injuries and fatalities suffered by workers in one of the nation's most hazardous industries.
Six of 311 trenching and excavation inspections conducted by OSHA at sites in Illinois, Ohio, and Wisconsin in 2022 followed incidents in which workers suffered fatalities after falling into a trench, being pinned between equipment, trapped by a cave-in, or asphyxiated by naturally occurring, hazardous gases in the trench.
OSHA Regional Administrator Bill Donovan stated, "By launching this trench and excavation safety campaign as the spring construction season gets into full swing and through proper training and use of required safety procedures, OSHA and its partners are determined to make sure industry workers finish their daily shifts safely."
Additionally, OSHA has a national emphasis program on preventing trenching and excavation collapses as well as compliance assistance resources in English and Spanish to help keep workers safe from hazards associated with these operations.
This article was written by Carmen King of J. J. Keller & Associates, Inc.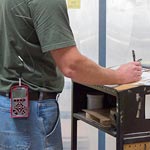 Looking for more on workplace safety?
Get the information and products you need to stay on top of industry changes and comply with regs.