Court: Request for second opinion, fitness-for-duty went too far
Posted April 7, 2022
It was summer 2020, and schools were struggling with COVID-19 reopening decisions. Phoebe was one of a number of teachers whose children went to a school outside the district and were concerned about how they would balance work and childcare responsibilities in the event that the district opted for in-person instruction while their children's districts opted for remote instruction.
Phoebe also had a mental health condition. About a week after discussing the school reopening plans with Dani, the HR director, Phoebe asked about taking leave for her own condition. Phoebe subsequently provided a requested certification supporting the need for leave.
While Phoebe's leave request was pending, Dani became aware that other teachers in similar situations were requesting FMLA leave. Dani worried about staffing.
On August 14, Phoebe and Dani talked on the phone, when Dani indicated that she did not think Phoebe's certification was legitimate, and that Phoebe was just looking for a way to take time off for childcare reasons. Dani reminded Phoebe that she had hundreds of employees and she could not have them thinking they could obtain certifications, so they didn't have to work. She also indicated that she would not be approving Phoebe's leave, but was sending it to Bert, the District Superintendent, for review.
Bert and Dani decided to ask Phoebe to obtain a second opinion. This second opinion exam lasted 1.5 hours and involved going through all of Phoebe's childhood trauma. The doctor also falsely stated that Phoebe had previously requested and been denied childcare leave. Phoebe was left traumatized and scared by the second opinion exam. The exam did, however, corroborate her condition, and she took leave.
During her leave, Phoebe was told that she would need to provide a fitness-for-duty certification. But she felt the company did not have a uniform policy or practice of requiring all similarly situated employees to provide them.
In light of all this, Phoebe filed a claim, naming Dani and Bert, individually, asserting that their actions amounted to FMLA retaliation. They didn't require the second opinion because they had reason to doubt the validity of her initial medical certification, but rather in order to retaliate against her for seeking to exercise her FMLA rights.
Similarly, Phoebe alleged that her fitness-for-duty exam was not part of some uniformly applied policy or practice, but rather a one-off exercise of the employer's discretion. In essence, Phoebe argued that the employer manipulated the law and regulations governing FMLA exam requirements in order to retaliate against her.
The court agreed with Phoebe. It pointed out that while employers may request second opinions and fitness-for-duty certifications, they may not abuse that discretion. It was not unreasonable to think that a mental health exam by an unfamiliar and potentially skeptical physician would be likely to dissuade a similarly situated employee from exercising her FMLA rights.
The August 14 phone call also suggested that the second opinion and other retaliatory acts were performed "strategically" for the purpose of dissuading other employees from making valid FMLA leave requests. To top it off, Dani's alleged tone during the phone call suggested that she may have harbored an animus toward FMLA leave requests.
The FMLA allows for claims to include individuals as long as they had some personal involvement in the alleged FMLA violation. Dani was principally responsible for managing employees and FMLA leave requests. She also pushed most forcefully for the requirement of a second opinion, and it was her comments that Phoebe used as direct evidence of retaliatory intent.
Bert had less input, but it was enough. He had the final authority to approve or deny FMLA leave requests. In Phoebe's case, Dani sent the FMLA request to Bert "for his review," and Dani later consulted with Bert on the requirement for a second opinion medical exam.
Larsen v. Berlin Board of Education, District Court of Connecticut, No. 3:21-cv-427, February 28, 2022.
This article was written by Darlene Clabault of J. J. Keller & Associates, Inc.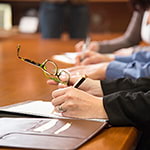 Looking for more on HR compliance?
Get the information and products you need to stay on top of industry changes and comply with regs.