Emergency COVID-19 rule sent for White House review
Posted April 30, 2021
On April 26, OSHA sent its COVID-19 Emergency Temporary Standard (ETS) to the White House Office of Management and Budget (OMB) for review. President Biden said in a January 21 Executive Order that he wanted OSHA to issue a COVID-19 emergency rule by March 15 if the agency determined a rulemaking was necessary.
Emergency Temporary Standards
Section 6(c) of the OSH Act provides the authority for OSHA to issue an ETS without having to go through the normal rulemaking process. The agency may promulgate an ETS without supplying any notice or opportunity for public comment or public hearings. An ETS is immediately effective upon publication in the Federal Register.
Upon promulgation of an ETS, OSHA is required to begin the full rulemaking process for a permanent standard with the ETS serving as the proposed standard for this rulemaking. An ETS is valid until superseded by a permanent standard, which OSHA must promulgate within six months of publishing the ETS in the Federal Register.
An ETS must include a statement of reasons for the action in the same manner as required for a permanent standard. State plans are required to adopt or adhere to an ETS, although the OSH Act is not clear on how quickly a state plan must come into compliance with an ETS.
This article was written by Rachel Krubsack of J. J. Keller & Associates, Inc.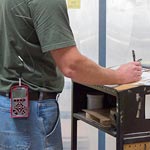 Looking for more on workplace safety?
Get the information and products you need to stay on top of industry changes and comply with regs.