The reprieve is over: DOL fully enforcing the FFCRA leave provisions
Posted April 23, 2020
April 17, 2020 came and went seemingly with little fanfare relating to employee leave under federal law. Perhaps for some employers, however, that date had a special meaning, as it was the last date employers could enjoy a reprieve from enforcement of the employee leave provisions under the Families First Coronavirus Response Act (FFCRA). From now until the law's sunset date of December 31, 2020, the Department of Labor will, in sorts, throw the book at violators.
If you violated the FFCRA before April 17, and didn't take steps to mitigate the violation, you could still have some legal exposure, as the DOL will retroactively enforce violations back until the effective date of April 1, 2020, if you have not remedied the violations. If you recall, the FFCRA contained two employee leave provisions, the two weeks of paid sick leave and the additional 10 weeks of paid expanded family and medical leave. An employer who fails to provide the paid sick leave is considered to have failed to pay the minimum wage under the Fair Labor Standards Act (FLSA) and, therefore, is subject to the FLSA's enforcement provisions.
Willful violations of the FLSA may be prosecuted criminally and the violator fined up to $10,000. A second conviction may result in imprisonment. An employee may recover both back pay and liquidated damages, which is an additional penalty equal to the amount of the back pay.
Similar to the regular FMLA, if an employer interferes with or retaliates against an employee for exercising his or her rights to take expanded family and medical leave under the FFCRA is subject to the FMLA's enforcement provisions. As such, employees may receive wages, employment benefits, other compensation denied or lost due to the violation, actually monetary loss as a result of the violation, such as up to 12 or 26 weeks of wages, as well as liquidated damages.
Of course, the penalties increase for willful violations. The FLSA and applicable DOL regulations provide for the assessment of civil monetary penalties for any person who repeatedly or willfully violates federal minimum wage or overtime requirements. The civil monetary penalties were increased about a year ago to correlate to inflation. All this can add up quickly, and you likely have other fires to put out in this, our new normal.
The DOL won't randomly come knocking at your do to see if you're complying with the FFCRA. If, however, an employee believes that you improperly refused the sick leave or the expanded family and medical leave, that employee may contact the DOL's Wage and Hour Division (WHD), which is responsible for administering and enforcing these provisions. In most cases, employees may also file a lawsuit against you directly without contacting the WHD. Since employees might already feel a sense of insecurity, they could feel inspired to file a claim should you make a misstep.
This article was written by Darlene Clabault of J. J. Keller & Associates, Inc.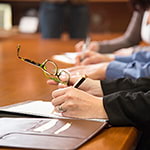 Looking for more on HR compliance?
Get the information and products you need to stay on top of industry changes and comply with regs.