OSHA allows use of respirators certified to other countries' standards
Posted April 8, 2020
Due to the shortage of N95 respirators during the COVID-19 pandemic, OSHA says it will allow the use of respirators certified to other countries' standards. On April 6, the Agency issued interim guidance to its Compliance Safety and Health Officers (CSHOs) outlining enforcement discretion to permit the use of filtering facepiece respirators (FFRs) and air-purifying elastomeric respirators that are either:
Certified under certain standards of other countries or jurisdictions:

Australia: AS/NZS 1716:2012
Brazil: ABNT/NBR 13694:1996; ABNT/NBR 13697:1996; and ABNT/NBR 13698:2011
People's Republic of China: GB 2626-2006; and GB 2626-2019
European Union: EN 140-1999; EN 143-2000; and EN 149-2001
Japan: JMHLW-2000
Republic of Korea: KMOEL-2014-46; and KMOEL-2017-64
Mexico: NOM-116-2009
or
Previously certified under the standards of other countries or jurisdictions but beyond the manufacturer's recommended shelf life (i.e., expired).
The guidance applies to all industries, including workplaces in which:
Healthcare personnel are exposed to patients with suspected or confirmed COVID-19 and other sources of SARS-CoV-2.
Protection of workers exposed to other respiratory hazards is impacted by the shortage resulting from the COVID-19 pandemic.
The guidance takes effect immediately and will remain in effect until further notice.
This article was written by Rachel Krubsack of J. J. Keller & Associates, Inc.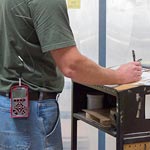 Looking for more on workplace safety?
Get the information and products you need to stay on top of industry changes and comply with regs.