Supreme Court agrees to tackle LGBT cases
Posted April 24, 2019
Whether Title VII of the Civil Rights Act provides protections for lesbian/gay/bisexual/transgender (LGBT) employees might finally be addressed, as the U.S. Supreme Court has agreed to hear related cases during its next term, which begins in October. Currently, federal agencies and the courts are split on the issue regarding transgender and/or sexual orientation discrimination.
While Title VII bans discrimination based on "sex," neither the text of the law nor the related regulations specifically include LGBT in their reference.
The Equal Employment Opportunity Commission (EEOC), which enforces the workplace nondiscrimination laws such as Title VII, feels that employers are prohibited from discriminating on the basis of sexual orientation. It indicates that "[d]iscrimination against an individual because of gender identity, including transgender status, or because of sexual orientation is discrimination because of sex in violation of Title VII."
The current Department of Justice (DOJ), however, disagrees. It didn't always. In years past, the DOJ has agreed with the EEOC.
A handful of federal appeals courts have touched upon the issue, but they don't agree with each other.
The 2nd Circuit Court of Appeals held that Title VII prohibits sexual orientation discrimination (Zarda v. Altitude Express). The 2nd Circuit includes Connecticut, New York, and Vermont.
The 6th Circuit Court of Appeals held that Title VII prohibits transgender discrimination based on sex and sex stereotypes (EEOC v. R.G. & G.R. Harris Funeral Homes Inc.). The 6th Circuit includes Kentucky, Michigan, Ohio, and Tennessee.
The 11th Circuit Court of Appeals, on the other hand, held that Title VII does not protect employees from discrimination based on sexual orientation (Bostock v. Clayton County, Ga.). The 11th Circuit includes Alabama, Florida, and Georgia.
The 5th Circuit Court of Appeals held that Title VII doesn't provide employment protection based on LGBT status (Wittmer v. Phillips 66 Company). The 5th Circuit includes Louisiana, Mississippi, and Texas.
Therefore, the issue has been kicked upstairs to the Supreme Court. Don't expect a final ruling until 2020, however, smack dab in the middle of the presidential campaign.
According to the EEOC, LGBT cases continue to increase. In FY 2014, the agency handled 1,100 cases, compared to 1,811 in FY 2018. Most other areas of discrimination have decreased.
Some employers may already be providing LGBT protections in their workplaces, while others may be waiting to see how the issue fares in the High Court. Perhaps the question regarding such protections will finally be answered.
This article was written by Darlene M. Clabault, SHRM-CP, PHR, CLMS of J. J. Keller & Associates, Inc.
---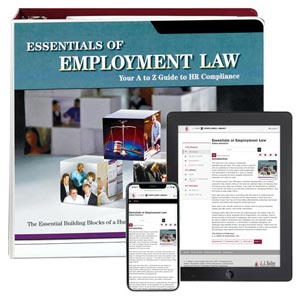 J. J. Keller's Essentials of Employment Law Manual covers more than 100 vital HR topics, including FMLA, ADA, HIPAA, FLSA, COBRA and more.
---
J. J. Keller's FREE HR SafetyClicks™ email newsletter brings quick-read safety and compliance news right to your email box.
Sign up to receive HR SafetyClicks™.