Shared worksites, common management factors in decision to cite two companies as one
Posted April 28, 2017
An administrative law judge with the independent Occupational Safety and Health Review Commission (OSHRC) ruled that two Massachusetts contractors operated as one company and were both responsible for employees' safety. The case stems from an October 2014 incident where three employees were injured.
The employees were working on a ladder jack scaffold when the wooden plank they were standing on snapped, sending the workers 20 feet to the ground. An OSHA investigation found that the wooden plank was not graded for scaffold use. In fact, the invoice clearly stated that the wood was not safe for scaffold use.
Other hazards cited were deficiencies with the scaffold's components and structure and lack of fall protection for workers.
OSHA cited the two contractors as a single employer in April 2015, due to the highly integrated nature of the work operations, which included common worksites and common management and supervision. Both companies contested the citations and penalties to OSHRC. Company A argued that it could not be responsible for the safety of the workers on the jobsite because they were employed by Company B.
An OSHRC judge heard the case in June 2016 and ruled in February 2017 that Company A and Company B were operating as a single employer at the time of the OSHA inspection. Company A asked for a review of the decision, but the request was denied. The judge's order became final on April 17, 2017. Company A has 60 days from that date to appeal the order.
---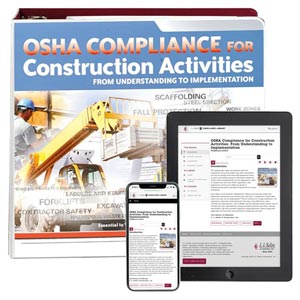 J. J. Keller's OSHA Compliance for Construction Activities Manual explains complex Part 1926 regs in easy-to-understand language.
---
J. J. Keller's FREE Workplace SafetyClicks™ email newsletter brings quick-read workplace safety and compliance news right to your email box.