SHRM releases 2017 employee satisfaction, engagement survey
Posted April 26, 2017
Are your employees satisfied in their jobs? The results of the Society for Human Resource Management (SHRM) annual survey show that job satisfaction remains high with 89 percent of employees saying they were satisfied overall with their jobs (38 percent reported being very satisfied, and 51 percent somewhat satisfied).
SHRM's Employee Job Satisfaction and Engagement survey has observed similar levels of employee job satisfaction in recent years with a combined 86 percent of survey respondents reporting satisfaction in the survey released in 2015 and 88 percent in the report released in 2016.
For the third year in a row, the largest percentage of employees (65 percent) indicated that respectful treatment of all employees at all levels was a very important contributor to their job satisfaction.
However, this aspect reflected several differences among demographic groups in the workplace:
Female employees (72 percent) were more likely to report this aspect as a very important contributor to job satisfaction than male employees (57 percent).
A greater proportion of Millennials (45 percent) were very satisfied with this aspect compared with Generation Xers (31 percent).
Individual contributors (31 percent) were less likely to be very satisfied with the level of respect shown to all employees compared with executives (52 percent).
Other top contributors to job satisfaction were:
Compensation/pay;
Trust between employees and senior management;
Job security; and
Opportunities to use skills and abilities.
Even as overall satisfaction is high, there are gaps between what employees consider to be important and their levels of satisfaction.
The largest discrepancy between importance and satisfaction was found in compensation (35 percentage points). Furthermore, the survey findings indicate that raises given to employees were consistent with those in previous years, however, there was a 9-percentage-point drop in the workers receiving bonuses compared with the year before.
The survey findings also indicate that while trust between employees and senior management is gaining importance, (increasing 6 percentage points compared with percentages in 2015) there is a gap of 28 percentage points between importance and satisfaction. Sixty-one percent of employees rated trust between them and their senior management as very important to job satisfaction. However, only 33 percent were very satisfied with the level of trust in their organizations.
Finally, despite a relatively high level of job satisfaction, 40 percent of employees reported (to some degree) the possibility of seeking employment outside of their current organization within the next 12 months. The leading reason for employees looking for external positions was higher compensation/pay, followed by better benefits, more job security, and additional career advancement opportunities.
---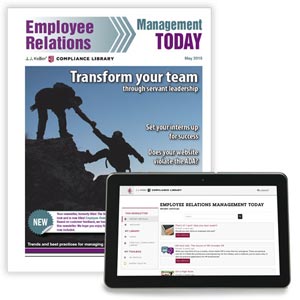 The SUPER adVISOR™ newsletter contains four pages dedicated to the HR manager and a corresponding four-page pullout dedicated to the needs of supervisors.
---
J. J. Keller's FREE HRClicks™ email newsletter brings quick-read human resources-related news right to your email inbox.