It's full steam ahead for EPA's reform agenda
Posted April 17, 2017
EPA is looking for public input on which regulations may be the best candidates for repeal, replacement, or modification. The request for comment comes in response to President Trump's February 24, 2017, Executive Order (EO) 13777 on "Enforcing the Regulatory Reform Agenda." The EO directs federal agencies to create a Regulatory Reform Task Force to evaluate existing regulations and make recommendations on keeping or eliminating them.
In particular, the EO asks each Task Force to identify regulations that:
Have a negative impact on jobs or job creation;
Are outdated, unnecessary, or ineffective;
Have costs that exceed benefits;
Create serious inconsistencies or interfere with regulatory reform initiatives and policies;
Rely in whole or in part on data, information, or methods that are not publicly available or are not sufficiently transparent;
Stem from or implement Executive Orders or other Presidential directives that have since been rescinded or substantially modified.
Public input must be received on or before May 15, 2017, at the Federal eRulemaking Portal. The docket number for submitting comments is EPA-HQ-OA-2017-0190.
In addition, various EPA offices plan to hold public meetings in April and May:
The Office of Land and Emergency Management (OLEM), will host a public meeting to obtain public feedback on May 9, 2017, from 9:00 a.m. to 5:00 p.m. EDT in Arlington, VA.
The Office of Small and Disadvantaged Business Utilization plans a public meeting on April 25, 2017 from 10 a.m. - 1 p.m. EDT.
The Office of Water (OW) is planning to meet with water associations, including ECOS, ACWA, ASDWA, and GWPC on April 26, 2017 from 1 - 3 p.m.
OW is also planning a virtual listening session for the public on May 2, 2017 from 11 a.m. - 2 p.m.
The Office of International and Tribal Affairs will host an outreach call with tribal representatives on April 24, 2017 at 2:00 p.m.
---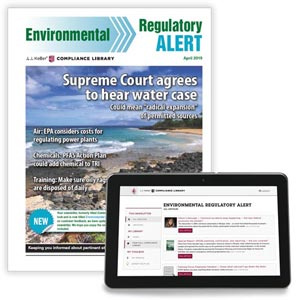 J. J. Keller's Environmental Alert: The Compliance Guide for Safety Professionals helps you stay on top of the latest environmental enforcement issues.
---
J. J. Keller's FREE Workplace SafetyClicks™ email newsletter brings quick-read workplace safety and compliance news right to your email box.