Does your company have an e-cigarette policy?
Posted April 24, 2017
The use of electronic cigarettes (e-cigarettes) has increased in popularity, and similar to bans placed on smoking traditional cigarettes in public, some states have developed laws prohibiting the use of e-cigarettes in certain areas such as schools, state parks, and health care facilities.
Some employees, however, are unclear on whether their employers have a company policy on the use of e-cigarettes — or whether that policy is different for vaping versus tobacco smoking, reports a survey study in the April Journal of Occupational and Environmental Medicine.
The researchers performed an internet survey to assess employees' perceptions of their company's smoking and vaping policies. The study included responses from 456 employed smokers and/or vapers. While further research on vaping in the workplace is needed, the study provides initial information on company policies regarding vaping versus smoking.
In general, the respondents reported their companies had the same policy for both smoking and vaping. Where there was a difference, employees perceived more restrictive policies regarding smoking than vaping. But 12.5 percent of respondents were unaware of any company policy related to vaping.
Most companies now have policies restricting smoking, but there is little information about vaping in the workplace.
When developing a policy on e-cigarette use, companies should check their state laws for restrictions, and might also want to consider that some individuals use the devices as an aid to quit smoking.
---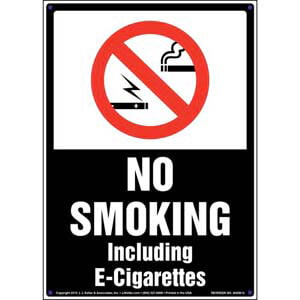 J. J. Keller's e-cigarette smoking control signs alert workers and visitors of company policy on smoking.
---
J. J. Keller's FREE HRClicks™ email newsletter brings quick-read human resources-related news right to your email inbox.