MSHA launches mine safety campaign to promote training
Posted March 4, 2022
In the past year, dozens of miners have been injured or killed in mining incidents, many of which could have been prevented with proper training and attention to tasks. This trend has prompted the Department of Labor (DOL) to initiate a new safety campaign to reach miners and educate mine operators on their responsibility to ensure a safe workplace and prevent deadly accidents.
The department's Mine Safety and Health Administration (MSHA) recently announced the Take Time Save Lives campaign to reach miners, promote best practice resources, and ensure mine operators have the tools they need to fully train miners to use equipment.
Miners and operators can find training resources and safety best practices for:
Powered haulage safety
Roof and rib falls
Fire suppression and prevention
Fatality updates
This article was written by Rachel Krubsack of J. J. Keller & Associates, Inc.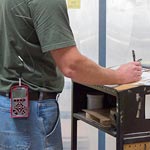 Looking for more on workplace safety?
Get the information and products you need to stay on top of industry changes and comply with regs.