Involved in an accident?
Posted March 18, 2022
When an accident happens, immediate action is necessary. The following steps must be completed as soon as possible after an accident.
Stop immediately. The driver should stay calm, pull the vehicle as far off the road as possible, shut off the engine, set the emergency brake, and turn on the vehicle's four-way flashers.
Set out emergency warning devices. Emergency warning devices must be set out within 10 minutes of stopping.
Check for injuries.
Notify law enforcement. The driver should provide the following information:

Accident location,
Number of people injured and severity of injuries,
Extent of property damage, and
The driver's contact information.

Document the accident. The driver should include the following information:

Time, location, weather/road conditions;
Description of damages;
Names and addresses of all involved and insurance companies;
Type, make, model, license number of all vehicles involved; and
Name and department of the investigating officer.

Notify the company. The driver should follow all company notification policies and procedures.
Complete a preliminary accident report.
This article was written by Jen Loomis of J. J. Keller & Associates, Inc.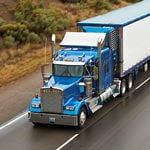 Looking for more on transportation safety?
Get the information and products you need to stay on top of industry changes and comply with regs.