FMCSA's hours-of-service rule at final review stage
Posted March 3, 2020
Potentially significant changes to the federal hours-of-service (HOS) rules have reached their final stage of review, arriving at the Office of Management and Budget (OMB) on Monday, March 2, 2020.
The OMB typically has up to 90 days to complete its review of new regulations, meaning the final rule could be published before summer. The new HOS rule is considered economically significant, meaning it's expected to have an annual economic effect of $100 million or more.
The Federal Motor Carrier Safety Administration (FMCSA) announced proposed changes to the HOS rules in August 2019 and received over 8,000 public comments in response. There's no word on the contents of the final rule, but the agency proposed five changes:
Allowing drivers to extend the 14-hour limit with one off-duty break of at least 30 minutes, but not more than three hours.
Allowing drivers to spend their mandatory 30-minute rest breaks on duty rather than off duty, and allowing up to eight hours of driving time (rather than consecutive time) before a break is required.
Extending the 12-hour limit on the 100-air-mile exception to 14 hours, and extending the allowed radius to 150 air miles.
Extending the on-duty limit of the "adverse driving conditions" exception by two hours.
Modifying the sleeper-berth exception to allow drivers to split their required 10-hour breaks into two periods of at least seven consecutive hours in the sleeper berth and another break of at least two consecutive hours.
If the OMB approves the changes, it clears the way for the FMCSA to publish them in the Federal Register and put them into effect, likely later this year.
This article was written by Daren Hansen of J. J. Keller & Associates, Inc.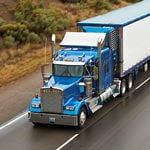 Looking for more on transportation safety?
Get the information and products you need to stay on top of industry changes and comply with regs.