FMCSA to study harassment of minority men, female truckers
Posted March 2, 2020
The Federal Motor Carrier Safety Administration (FMCSA) announced plans to study harassment and assault on minority men and female truckers in the industry.
FMCSA's study, "Crime Prevention for Truckers" will collect information from drivers to help determine the impact of drivers being stalked, harassed, assaulted, or robbed in the workplace. Participants will be asked to participate in the study through an online survey or an in-person interview.
If necessary, the FMCSA could consider developing training or outreach materials to help truckers protect themselves from harassment and assault. The agency currently does not provide materials on these topics.
FMCSA will seek responses from 440 minority men and 440 women for a survey, and another 80 men and 80 women for in-person interviews. To participate, drivers must show that they have driven a truck professionally in the past two years.
FMCSA will release the study's results on its website upon completion.
This article was written by David Lubach of J. J. Keller & Associates, Inc.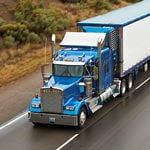 Looking for more on transportation safety?
Get the information and products you need to stay on top of industry changes and comply with regs.