Surprise! Federal court revives pay data in EEO-1 report requirement
Posted March 7, 2019
In an interesting twist on an issue that appeared to be under wraps, on March 4, 2019, the U.S. District Court for the District of Columbia revived the requirement that employers include pay information in the EEO-1 reports, and the court wants the revision to be effective immediately.
History
Pursuant to Title VII of the Civil Rights Act of 1964, employers are required to "make and keep such records relevant to the determination[] of whether unlawful employment practices have been or are being committed, . . . preserve such records" and produce reports as mandated by EEOC. This is the basis of the EEO-1 report, which requires employers to report the number of individuals employed by job category, sex, race, and ethnicity.
On February 1, 2016, the EEOC announced its intention to revise the EEO-1 data collection to include information on employees' W-2 earnings and hours worked to help enforcement of equal pay laws. The collection of pay data was to begin with the 2017 reporting cycle, and EEO-1 respondents were required to submit their reports by March 31, 2018.
In 2017, however, the federal Office of Management and Budget (OMB) halted the requirement. In response, the OMB was sued, with the plaintiffs arguing that the agency overstepped its authority when it halted the revised EEO-1 report. The plaintiffs wanted to access the statistics on pay equity that would result from the enhanced report.
In this latest ruling, the court indicated that the OMB did not demonstrate a good cause for halting the revised requirement. As a means of fashioning an appropriate remedy, the court generally vacated the OMB's 2017 halt of the revision, reviving the expanded requirement.
The plaintiff has requested that the OMB publish a Federal Register notice announcing this reinstatement or take equivalent action necessary to immediately reinstate the pay data collection.
This latest move will likely undergo further litigation, but employers should keep this on their radar and act accordingly, particularly since false reporting could subject them to fines or imprisonment.
This article was written by Darlene M. Clabault, SHRM-CP, PHR, CMLS, of J. J. Keller & Associates, Inc.
---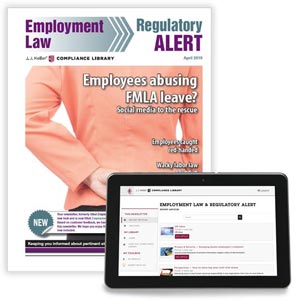 J. J. Keller's Employment Law Today newsletter explains why you need to care, what you need to do and how your business could be affected by HR industry news.
---
J. J. Keller's FREE HR SafetyClicks™ email newsletter brings quick-read safety and compliance news right to your email box.