No need to include pay information in the current EEO-1 report – for now
Posted March 20, 2019
Despite a federal court ruling that resurrected the requirement to include employee pay information in the annual EEO-1 report, the Equal Employment Opportunity Commission (EEOC), indicates — by omission — that this information need not be included in this year's report; at least not yet.
In addressing the subject, the EEOC stated that they are "working diligently on next steps in the wake of the court's order," and "will provide further information as soon as possible."
So far, the portal employers use to report does not include a way to add pay data. This, however, could change, so stay tuned. Currently, 2018 data is to be reported between March 18, 2019 ending May 31, 2019, using data pulled from one pay period in October, November or December of 2018. The EEOC prefers that employers use the online portal.
The case in question, National Women's Law Center, et al., v. Office of Management and Budget, et al., Civil Action No. 17-cv-2458 (TSC), vacated the Office of Management and Budget's (OMB) stay on collecting employee pay data, allowing the requirement to be revived.
Questions remain, including whether or when the EEOC will require pay reporting, whether the agency will appeal the court ruling and, if so, will the ruling be put on hold during the appeal, will the judge mandate that the EEOC require pay data to be included in the report. The timing of all these unknowns could make compliance a challenge.
The EEO-1 survey requires company employment data to be categorized by race/ethnicity, gender, and job category. All companies that meet the following criteria are required to file the EEO-1 report annually:
Subject to Title VII of the Civil Rights Act of 1964, as amended, with 100 or more employees; or
Subject to Title VII of the Civil Rights Act of 1964, as amended, with fewer than 100 employees if the company is owned by or corporately affiliated with another company and the entire enterprise employs a total of 100 or more employees; or
Federal government prime contractors or first-tier subcontractors subject to Executive Order 11246, as amended, with 50 or more employees and a prime contract or first-tier subcontract amounting to $50,000 or more.
This article was written by Darlene M. Clabault, SHRM-CP, PHR, CLMS, of J. J. Keller & Associates, Inc.
---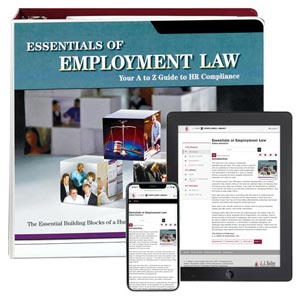 J. J. Keller's Essentials of Employment Law Manual covers more than 100 vital HR topics, including FMLA, ADA, HIPAA, FLSA, COBRA and more.
---
J. J. Keller's FREE HR SafetyClicks™ email newsletter brings quick-read safety and compliance news right to your email box.