EPA bans consumer sales of methylene chloride paint removers
Posted March 19, 2019
EPA has issued a final rule prohibiting the manufacture (including import), processing, and distribution of methylene chloride in all paint removers for consumer use. Paint removal products containing methylene chloride will not be able to be sold at any retail or distribution establishments that have consumer sales, including e-commerce sales. EPA notes that a variety of effective, less harmful substitutes are readily available for paint removal.
The ban takes effect 180 days after the effective date of the final rule, although EPA says it expects that many suppliers will implement the rule much sooner.
EPA also is requiring manufacturers, processors, and distributors to notify retailers and others in their supply chains of the prohibitions and to keep basic records. Once published, the final rule and supporting documents will be available in the Federal Register docket at the Federal eRulemaking Portal by searching for EPA-HQ-OPPT-2016-0231.
EPA also is soliciting public input for a future rulemaking that could establish a training, certification, and limited access program for methylene chloride for commercial uses. Upon its publication in the Federal Register, EPA will accept public comments for 60 days in docket EPA-HQ-OPPT-2018-0844 at the Federal eRulemaking Portal.
Acute (short-term) exposures to methylene chloride fumes can rapidly cause dizziness, loss of consciousness, and death due to nervous system depression.
---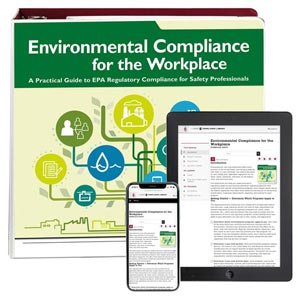 J. J. Keller's Environmental Compliance for the Workplace Manual addresses major environmental issues, including permitting, planning, and training.
---
J. J. Keller's FREE Workplace SafetyClicks™ email newsletter brings quick-read safety and compliance news right to your email box.
Sign up to receive Workplace SafetyClicks™.