Paid leave on the mind of HR professionals
Posted March 14, 2018
More than 500 "I support the Workflex bill" signs were raised into the air Monday morning at the sold-out annual Society for Human Resources Management (SHRM) Legislative Conference in Washington D.C. The signs were in reference to a proposed solution to the nation's complex patchwork of paid leave laws.
Currently, nine state and more than 30 local laws govern employee leave, making compliance challenging for employers.
The proposed Workflex in the 21st Century Act (H.R. 4219) would simplify compliance by allowing employers to voluntarily comply with a single federal law. The proposed law would be covered by the Employee Retirement Income Security Act (ERISA), and it would pre-empt state and local paid leave laws.
Today an employer with multiple locations may need to take numerous leave laws into account, or apply several laws to a single employee. Many employers agree with providing paid leave for certain reasons but have concerns over such mandates.
Under the proposal, employers could comply by voluntarily offering paid time off and a qualified flexible work arrangement, such as flexible scheduling, telecommuting, or a compressed work schedule. Employee participation in any flexible work arrangement would also be voluntary.
The bill would be an incentive for employers to provide paid leave, as it would be easier to administer leave under one law rather than the multiple state and local laws now in effect.
The bill was introduced last November by Congresswoman Mimi Walters (R-CA), and has been referred to the House Committee on Education and the Workforce. It has four co-sponsors.
The SHRM legislative conference includes both education and advocacy, and Workflex is one of several issues SHRM members will bring up when they meet with members of Congress on March 14.
This article was written by Terri Dougherty of J. J. Keller & Associates, Inc.
---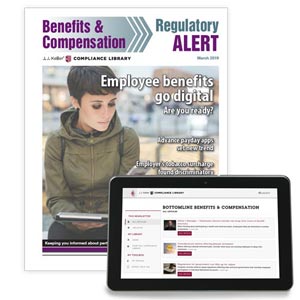 J. J. Keller's BottomLine Benefits & Compensation is an 8-page, monthly newsletter that addresses key issues relating to benefits and compensation programs.
---
J. J. Keller's FREE HRClicks™ email newsletter brings quick-read human resources-related news right to your email inbox.