OSHA fact sheet answers questions on emergency exit routes
Posted March 26, 2018
OSHA recently updated its fact sheet on Emergency Exit Routes, including information on written emergency action plans and fire prevention plans. The document answers questions on the number of exit routes that are required in the workplace along with design and construction requirements for exit routes.
OSHA also lists the requirements for exits and the maintenance, safeguarding, and operational features for exit routes. Among other requirements, employers must keep exit routes free of explosive or highly flammable furnishings and other decorations, provide adequate lighting, and ensure exit routes are kept clear of obstructions.
The fact sheet goes into depth on employer requirements to have written emergency action plans (EAPs) and fire prevention plans (FPPs). There is an exception for employers with 10 or fewer employees; these employers may communicate their plans orally to employees. While seven OSHA standards require employers to develop EAPs, the Agency strongly recommends that all employers have an EAP. The standards that require EAPs are:
Process safety management of highly hazardous chemicals - 1910.119
Fixed extinguishing systems, general - 1910.160
Fire detection systems, 1910.164
Grain handling - 1910.272
Ethylene oxide - 1910.1047
Methylenedianiline - 1910.1050
1,3-Butadiene - 1910.1051
OSHA lists the minimum elements of an EAP, which include:
Procedures for reporting fires and other emergencies.
Procedures for emergency evacuation, including the type of evacuation and exit route assignments.
Procedures for employees who stay behind to continue critical plant operations.
Procedures to account for all employees after evacuation.
Procedures for employees performing rescue or medical duties.
Name or job title of employees to contact for detailed plan information.
Alarm system to alert workers.
Only three standards require employers to develop fire prevention plans. But as with EAPs, OSHA urges all employers to have an FPP. The three standards that require FPPs are:
Ethylene oxide - 1910.1047
Methylenedianiline - 1910.1050
1,3-Butadiene - 1910.1051
Employees must understand any fire hazards they may be exposed to when they are first assigned to the job, and employers must review with each employee those parts of the FPP necessary for self-protection. The minimum provisions of a written FPP include:
A list of all major fire hazards, proper handling and storage procedures for hazardous materials, potential ignition sources and their control, and the type of fire protection equipment necessary to control each major hazard.
Procedures to control accumulations of flammable and combustible waste materials.
Procedures for regular maintenance of safeguards installed on heat-producing equipment to prevent the accidental ignition of combustible materials.
Name or job title of employees responsible for maintaining equipment to prevent or control sources of ignition or fires.
Name or job title of employees responsible for the control of fuel source hazards.
---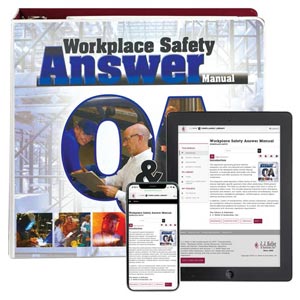 J. J. Keller's Workplace Safety Answer Manual provides a single-source manual that offers quick answers to a wide array of workplace safety questions.
---
J. J. Keller's FREE Workplace SafetyClicks™ email newsletter brings quick-read workplace safety and compliance news right to your email box.