New construction training requirements for NYC
Posted March 1, 2018
A new law that applies to New York City construction employers becomes effective on March 1, 2018. Local Law 196 of 2017 requires:
Workers at certain jobsites receive a minimum of 40 hours of safety training, and
Supervisors at certain jobsites receive a minimum of 60 hours of safety training.
Who must be trained?
Workers at jobsites that require a Site Safety Plan must be trained. This includes sites that are required to designate a Construction Superintendent, Site Safety Coordinator, or Site Safety Manager.
Supervisors at these jobsites must also be trained. This includes Site Safety Managers, Site Safety Coordinators, Concrete Safety Managers, Construction Superintendents, and competent persons.
Who does not need training?
Workers who do not need training under the new law include delivery persons, flag persons, Professional Engineers, Registered Architects, Special Inspectors, and Department-licensees (excluding safety professionals).
Workers at job sites that only involve minor alterations or the construction of a new 1-, 2-, or 3-family home also do not need training.
How much training will be required?
Workers will be required to receive between 40 and 55 hours of training. Supervisors will be required to receive between 60 and 75 hours of training.
What must the training consist of?
Workers will have a variety of options available to them. The training could include one or more of the following:
An OSHA 10-hour class,
An OSHA 30-hour class, or
A 100-hour approved training program (such as training received through an apprenticeship program).
Training formats
Only in-person training and actively proctored online training will be accepted. Actively proctored online training is:
Training that is taken in a classroom with a proctor, or
Training that at a minimum requires the individual receiving the training to:

Attest that they are the individual that received the training and that the training was received without assistance, and
Have their participation monitored at random times to ensure that the individual receiving the training is present for the entirety of the training.
Additional training to be determined
There will be additional training required by December 1, 2018 (or June 1, 2019, if the governing agency determines there is insufficient capacity to provide the training). The content of this additional training is not known.
---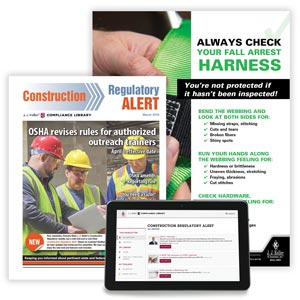 J. J. Keller® Construction Regulatory Update keeps you up-to-date with 1926 regulatory changes and new safety information.
---
J. J. Keller's FREE Workplace SafetyClicks™ email newsletter brings quick-read workplace safety and compliance news right to your email box.