New OSHA safety bulletins address chemical-related hearing loss and hazards of horizontal drilling
Posted March 19, 2018
OSHA released two new Safety and Health Bulletins (SHIBs) in March. The first SHIB, published on March 8, provides information on Preventing Hearing Loss Caused by Chemical (Toxicity) and Noise Exposure. The second SHIB, published March 13, addresses Avoiding Underground Utilities During Horizontal Directional Drilling Operations.
Hearing loss may be caused or made worse by ototoxicants
OSHA says millions of workers are exposed to noise in the workplace every day. When uncontrolled, noise exposure may cause permanent hearing loss. However, research shows exposure to certain chemicals, known as ototoxicants, may also cause hearing loss or balance problems, even without noise exposure. Common ototoxicants include certain pesticides, solvents, and pharmaceuticals.
The risk of hearing loss increases when workers are exposed to ototoxicants and elevated noise levels.
Industries that are likely to have ototoxicants include manufacturing, mining, utilities, construction, and agriculture. Occupational activities that often have high noise exposures that could increase the negative effect of ototoxicants on workers' hearing include:
Printing
Painting
Construction
Certain manufacturing jobs
Fueling vehicles and aircrafts
Firefighting
Weapons firing and
Pesticide spraying
Prevention is key
In order to prevent exposure to ototoxicants in the workplace, employers need to be able to identify them. OSHA recommends reviewing Safety Data Sheets (SDSs) for ototoxic substances and/or chemicals, and ototoxic health hazards associated with ingredients in the product. Employers must provide health and safety information to employees, as well as training to workers exposed to hazardous materials, including ototoxic chemicals. If employers receive complaints from workers about hearing loss, they should investigate SDSs for ototoxicants.
Other recommendations to prevent hearing loss from exposures to ototoxicants include:
Controlling exposures by replacing hazardous chemicals with less hazardous ones.
Using engineering controls, such as isolation and enclosures to control exposures to hazardous chemicals and reduce noise.
Provide adequate ventilation.
Eliminate unnecessary tasks that cause noise or chemical exposures.
Assess and determine the appropriate personal protective equipment, including respiratory protection.
Provide chemical protective gloves, arm sleeves, aprons, and other appropriate clothing to prevent skin-absorption of ototoxic chemicals.
Comply with the noise exposure standard at 29 CFR 1910.95.
Horizontal drilling hazards include electrocutions, explosions
OSHA's second SHIB warns that contractors must use the state's utility location system before performing any drilling. The Agency created the bulletin to address safe horizontal directional drilling (HDD) operations and provide information on avoiding underground lines.
HDD is a technology that uses equipment at the surface to drill underground horizontally to install pipes, conduits, and cables. If the drill contacts electrical lines, the operator could be electrocuted. Striking natural gas lines with the drill can cause gas leaks at the worksite or down the line in surrounding areas, which can lead to explosions.
HDD is used in several industries, including utilities and telecommunications, at sites with limited space, or where traditional vertical excavations are too hazardous (e.g., under lakes and rivers.) HDD is thought to take less time, require fewer workers, and cause less surface damage compared to traditional open pit excavations. But the technology makes avoiding utility lines more difficult because of limited visibility.
OSHA's SHIB provides several recommendations for avoiding underground utility lines during HDD operations. Before any drilling, operators should verify underground lines using surface markings. It is important to use multiple identification and verification methods, which may involve:
Visually inspecting the entire planned digging path for structures that indicate potential underground utilities (e.g., gas meters and manhole covers).
Reviewing drawings and contact utility companies directly to verify underground utility locations.
Comparing findings with surface markings to identify any missed utility.
Employing potholing and other safety precautions to further identify and avoid lines in the drill path.
Calling the 811 line (Call Before You Dig) before beginning any digging.
Potholing
Potholing involves digging holes by hand or with a vacuum excavator at the depth of the planned drill path, even if this depth is below the deepest identified utility line. Potholing allows the tracker to see the drill stem and drill head during drilling to ensure that the HDD machine operator avoids striking utility lines.
Safety precautions
The SHIB outlines several safety precautions employers should take before and during HDD operations. Potential hazards associated with HDD operations include mechanical rotating parts, high-pressure drilling fluid, and damaging electric and gas lines and other underground utilities. In addition to the line identification procedures listed above, precautions include:
Using site-specific safety assessments to determine appropriate drilling techniques and safety practices.
Training HDD machine operators and trackers before starting the operation to communicate effectively with hand signals and radios.
Ensuring trackers check the tracking device readings frequently during HDD operations and compare them with the pre-operational walkthrough readings. If any changes in readings occur (e.g., depth), the tracker should immediately signal the HDD machine operator to stop drilling, investigate, and take appropriate safety precautions before continuing to drill.
Drilling at a pace that is slow enough to permit the tracking device to sense any drill line deflections caused by large obstructions.
Minimize the impact of explosions and fires
The SHIB further describes how to prevent or minimize the impact of natural gas explosions and fires. Employers must develop a fire protection program and follow it throughout all phases of construction. Employers must prohibit open flames and smoking at a worksite when conducting HDD operations.
Further, employers must develop and implement an adequate site-specific Emergency Action Plan (EAP) for workers to follow for different emergencies that could occur—such as gas, electric, or sewer line strikes—and communicate the plan to all workers. Include steps in the EAP to take if a natural gas leak is suspected, including immediately evacuating the area and, from a safe location, calling 911, and the utility company. If using a cell phone, move away from the area where there might be gas before calling. Employers need to train all workers on appropriate precautions to take during different emergencies, immediately alert all workers in an emergency, and evacuate workers from unsafe areas to a safe, predesignated assembly location.
OSHA reminds employers to comply with all applicable local, state, and federal regulations.
---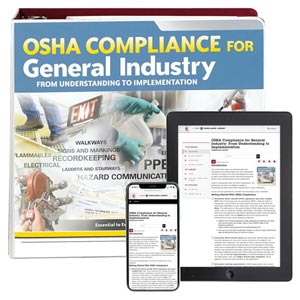 J. J. Keller's OSHA Compliance for General Industry manual is your single source for real-world OSHA compliance guidance.
---
J. J. Keller's FREE Workplace SafetyClicks™ email newsletter brings quick-read workplace safety and compliance news right to your email box.