Aerosol cans may soon be universal wastes
Posted March 12, 2018
EPA plans to add aerosol cans to the federal list of materials eligible to be handled as universal wastes. The Agency's universal waste program, which streamlines and simplifies waste management regulations, encourages recycling over disposal. If finalized, the rule could affect more than 18,000 different industries, including retailers and manufacturers, and save between $3.0 million and $63.3 million in annual costs.
The federal universal waste program provides incentives for generators to properly manage the materials and send them to appropriate recycling facilities. Typical universal wastes are materials that are widely generated, such as batteries, fluorescent light bulbs (lamps), certain pesticides, and mercury-containing equipment. Unless these materials are handled under the universal waste program, they must be managed as hazardous wastes.
Aerosol cans
Using statistics provided by the Consumer Specialty Products Association (CSPA), EPA says that in 2015, approximately 3.82 billion aerosol cans were used by commercial and industrial facilities, along with households. Aerosol cans dispense a broad range of products, ranging from paints, solvents, and pesticides, to personal care products and cheese.
Most aerosol cans are made up of several components, including
The can or container storing both propellant and product;
An actuator or button at the top of the can that is pressed to deliver the product;
A valve that controls delivery or flow of the product;
The propellant (a compressed or liquified gas), which provide the pressure in the container to expel or release the product when the actuator is pressed to open the valve;
The product; and
A dip tube that is connect to the valve to bring the product up through the can to be released when the actuator is pressed.
The can itself is usually a handheld steel or aluminum container sealed with its contents under pressure. Cans are designed to prevent unwanted releases of the contents to the environment under normal handling and storage conditions. Mismanagement, such as exposing the cans to excessive heat, can result in unwanted consequences such as fires and explosions.
Current regulation of aerosol cans
Until the proposal is finalized, aerosol cans are regulated under the full hazardous waste management program, meaning a generator must determine if the can, its propellants, or its contents are a hazardous waste. Generators of aerosol cans determined to be hazardous wastes must manage the cans according to the regulations that apply to their hazardous waste generator category and any additional state requirements. Note that household hazardous waste is exempt from federal hazardous waste management regulations.
Currently, aerosol cans that meet the regulatory definition of empty are recycled, and the recycling process itself is not subject to the hazardous waste management regulations. EPA has interpreted the regulations to mean that puncturing and draining an aerosol can for recycling purposes is part of the recycling process; however, the contents of the can must still be managed as a hazardous waste.
Four states – California, Colorado, Utah, and New Mexico – already have universal waste aerosol can programs in place. Ohio and Minnesota have proposed to add aerosol can to their universal waste regulations.
EPA will accept comments on the proposed Universal Waste Aerosol Can rule for 60 days after it is published in the Federal Register.
---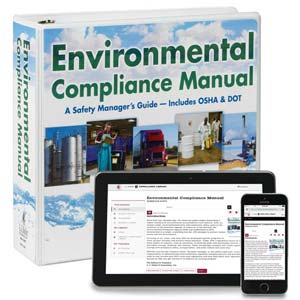 J. J. Keller's Environmental Compliance Manual is packed with easy-to-understand information on regulations, environmental issues and compliance.
---
J. J. Keller's FREE Workplace SafetyClicks™ email newsletter brings quick-read workplace safety and compliance news right to your email box.