Roadblocks to effective motor carrier enforcement cited by CSVA during hearing
Posted March 17, 2017
Lack of funding, exemptions to federal safety regulations, and restrictions to inspecting passenger-carrying vehicles are just a few of the difficulties in implementing the "Fixing America's Surface Transportation (FAST) Act of 2015," according to Captain Chris Turner of the Kansas Highway Patrol.
Turner — who is Vice President of the Commercial Vehicle Safety Alliance (CVSA) — represented the association in his testimony before the U. S. Senate Subcommittee on Surface Transportation and Merchant Marine Infrastructure, Safety, and Security on March 14, 2017. CVSA is comprised of state, local, and federal enforcement and industry stakeholders.
The Subcommittee's hearing, "Continuing to Improve Truck Safety on our Nation's Highways," examined provisions in the FAST Act dealing with motor carrier safety.
Funding woes
States are given federal funds through the Motor Carrier Safety Assistance Program (MCSAP) in order to enforce the Federal Motor Carrier Safety Regulations (FMCSRs) and the Hazardous Materials Regulations (HMRs). During his testimony, Turner indicated that states were assigned new and expanded responsibilities under the FAST Act in regard to motor carrier safety. He shared concerns over "a lack of reliable, long-term funding, which could force states to scale back or even end their CMV enforcement programs entirely." He stated that CVSA urges Congress — through an appropriations bill — to follow through with increased MCSAP funding as promised in the FAST Act.
Exemption issues
The FAST Act contained a number of legislative exemptions to the federal safety regulations. As a result, CVSA believes it is undermining safety and complicating enforcement. Even though CVSA does not oppose many of the exemptions specifically, they have, however, created challenges in enforcement. Multiple new exemptions may create confusion for roadside inspectors and result in inconsistent enforcement of the regulations.
Motorcoach enforcement challenges
Passenger-vehicle inspections pose unique challenges. First, it is a smaller segment in the transportation industry resulting in fewer CVSA-trained inspectors. Next, enforcement is restricted on when it may stop and perform a roadside inspection on a passenger vehicle. It cannot stop a passenger vehicle to request a roadside inspection if it is loaded with passengers, unless a traffic law violation is observed (e.g., speeding, vehicle defect). This same restriction keeps enforcement from inspecting the vehicle for a violation of weight limits, according to Turner.
---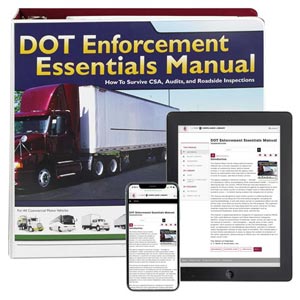 J. J. Keller's DOT Enforcement Essentials Manual is a tool that helps proactively enforce in-house and roadside compliance and prepare for FMCSA audits.
---
J. J. Keller's FREE Transportation SafetyClicks™ email newsletter brings quick-read safety and compliance news right to your email box.