President signs legislation repealing contractor "blacklisting" rule
Posted March 29, 2017
On March 27, 2017, President Trump signed four bills under the Congressional Review Act (CRA), including House Joint Resolution 37, which rolls back the so-called contractor "blacklisting" rule.
In 2014, President Obama signed Executive Order 13673, which directed federal agencies to change the procurement regulations. The subsequent rule required employers bidding on federal contracts to disclose violations and alleged violations of 14 different federal labor laws and similar state labor laws.
Proponents of the President Obama rule said it would level the playing field, keeping companies who "play by the rules" for compliance with safety and other labor laws from having to compete with companies that don't.
However, there was also strong opposition to the rule from those who saw it as government overreach and "blacklisting" of certain employers, potentially harming business growth.
In rolling back the rule, Congress used a rare maneuver under the CRA. Prior to this year, the CRA had only been used once, under the President George W. Bush administration to rollback OSHA's ergonomics rule.
The CRA allows Congress to pass a resolution of disapproval to prevent, with the full force of the law, a federal agency from implementing a rule or issuing a substantially similar rule without congressional authorization. The resolution blocks the blacklisting rule from taking effect and prevents future administrations from promulgating a similar rule.
The Trump Administration has signaled plans to use the CRA for additional rules, including one related to the amount of time OSHA is allowed to issue citations for violations of injury/illness recordkeeping rules.
---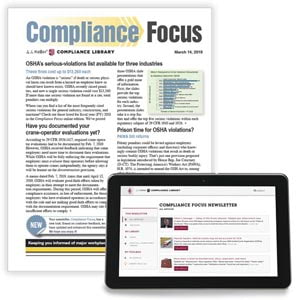 J. J. Keller's Compliance Focus helps you stay on top of critical regulatory developments from: DOT, OSHA, EPA, DOL, MSHA, EEOC, DHS and other agencies.
---
J. J. Keller's FREE Workplace SafetyClicks™ email newsletter brings quick-read workplace safety and compliance news right to your email box.