President plans to reorganize the executive branch
Posted March 15, 2017
On March 13, President Trump signed the latest in a series of Executive Orders aimed at limiting the reach of federal agencies.
The Presidential Executive Order (EO) on a Comprehensive Plan for Reorganizing the Executive Branch instructs the director of the White House Office of Management and Budget (OMB) to come up with a plan to reorganize governmental functions and eliminate unnecessary agencies, components of agencies, and agency programs.
Within 180 days, the head of each federal agency must submit a plan to reorganize the agency (if appropriate) to improve its efficiency, effectiveness, and accountability.
The EO directs the OMB to work with experts "inside and outside of the federal government" and to seek input from the public. The OMB must consider the following:
Whether states are better suited to carry out the functions of an agency or component of the agency;
Whether agency functions are redundant, either within one agency or across federal agencies;
Whether the administrative capabilities of an agency are necessary or redundant;
Whether the cost of continuing to operate an agency, a component of the agency, or an agency program are justified by the public benefits it provides; and
The costs of shutting down or merging agencies, components of agencies, or agency programs.
Remarking on the new order, Trump said, "Based on this input, we will develop a detailed plan to make the federal government work better — reorganizing, consolidating, and eliminating where necessary: In other words, making the federal government more efficient and very, very cost productive."
---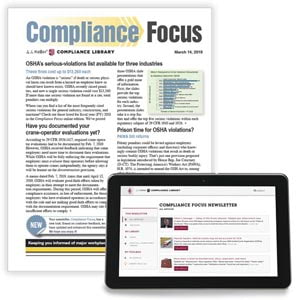 J. J. Keller's Compliance Focus helps you stay on top of critical regulatory developments from: DOT, OSHA, EPA, DOL, MSHA, EEOC, DHS and other agencies.
---
J. J. Keller's FREE Workplace SafetyClicks™ email newsletter brings quick-read workplace safety and compliance news right to your email box.