NIOSH offers new approach for workers who sit too much
Posted March 9, 2017
Sitting for long periods of time can make workers sick. But new guidance from the National Institute of Occupational Safety and Health (NIOSH) aims to offer employers solutions to the problem of prolonged sitting on the job. NIOSH recommends an integrated approach using Total Worker Health® concepts to reduce the health risks of sedentary work. This approach will protect employees from workplace injuries while helping them to advance their overall health and well-being, both on and off the job.
Sedentary work can have negative consequences
We've all heard the phrase "sitting is the new smoking." NIOSH says prolonged sitting is associated with a variety of negative health effects such as back and shoulder pain, diabetes, metabolic syndrome, obesity, and chronic diseases. Workers who sit for long periods of time can be at risk for these conditions, even if they otherwise meet recommended levels of physical activity during their free time.
NIOSH defines a sedentary job as one that involves mainly sitting, with occasional walking, standing, and lifting no more than ten pounds. Examples of sedentary jobs include management and professional work, along with office and administrative support occupations. Retail workers (cashiers, data entry, and call center employees) may also sit for long periods of time.
NIOSH recommends organizations decrease sedentary time by:
Offering flexibility to have standing or walking meetings,
Providing sit-stand stations, and
Encouraging flexible rest breaks.
The agency claims that decreasing worker sedentary time also benefits the employer. Direct benefits include the reduction of health-related expenses and less absenteeism. Indirect benefits may include improved employee morale, better recruitment and retention, and even reduced injury rates.
Incorporating TWH into workplace health and safety programs
NIOSH says employers should consider using the following TWH concepts to reduce workers' sedentary time while at work:
Include senior management support and worker participation in all health initiatives.
Involve workers and their representatives in designing and implementing procedures and practices to reduce sedentary work and promote physical activity.
Ensure that any program meant to advance workplace well-being has the commitment of organizational leadership.
Evaluate existing resources and current policies, programs, and practices to find what works to promote physical activity and future needs.
Allow workers more control over their activities, workloads, and schedules, and allow them to set up their workstations to take physical activity breaks after long periods of sitting.
Educate managers and supervisors on ways to reduce job stress faced by workers.
Ensure privacy by adhering to the regulatory requirements of the Americans with Disabilities Act, Health Insurance Portability and Accountability Act, etc. and train staff in privacy and confidentiality.
Link existing worker safety and health programs to current programs in use in the workplace.
Offer organizational support to encourage physical activity such as walking or biking to work or during breaks.
Provide health information about the risks of sedentary work to employees.
---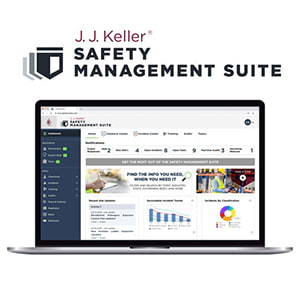 The J. J. Keller® Safety Management Suite, formerly KellerOnline®, provides safety professionals with the tools and applications to help drive performance, reduce risk, and ensure compliance.
---
J. J. Keller's FREE Workplace SafetyClicks™ email newsletter brings quick-read workplace safety and compliance news right to your email box.