California slashes super pollutants
Posted March 27, 2017
The California Air Resources Board (CARB) announced a new state plan limiting the emissions of black carbon, fluorinate gases, and methane — greenhouse gases (GHGs) the state calls "super pollutants."
According to CARB, these super pollutants have more potent heat-trapping abilities than carbon dioxide, but they remain in the air for a shorter time frame; therefore, reducing these pollutants can have an immediate beneficial impact on climate change in California.
Only about 12 percent of all GHG emissions are super pollutants, or short-lived climate pollutants (SLCPs), but CARB claims taking action to reduce them could possibly reduce global warming by up to 40 percent.
The "SLCP Strategy" is one part of the emission-reduction framework in the state's draft Proposed 2030 Scoping Plan. The framework also includes California's Cap-and-Trade Program, the Mobile Source Strategy, the Advanced Clean Car Program, the Renewables Portfolio Standard, and the Low Carbon Fuel Standard.
Under state law, CARB must complete and approve a plan to reduce SLCPs by January 1, 2018. The Board began evaluating controls and developing the Scoping Plan in 2008, with a target of reducing statewide GHG emission to 40 percent below 1990 emission levels by 2030.
---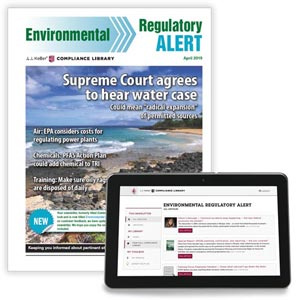 J. J. Keller's Environmental Alert: The Compliance Guide for Safety Professionals helps you stay on top of the latest environmental enforcement issues.
---
J. J. Keller's FREE Workplace SafetyClicks™ email newsletter brings quick-read workplace safety and compliance news right to your email box.