EPA, NHTSA pursue input on emission limits for heavy-duty vehicles
Posted March 10, 2016
EPA and the National Highway Administration (NHTSA) published a notice providing an opportunity to comment on new information related to the proposed Phase 2 Heavy-Duty National Program. According to the agencies, the proposed program published on July 13, 2015, is intended to reduce greenhouse gas emissions and fuel consumption for new on-road heavy-duty vehicles and engines.
Data relating to the potential stringency of the proposed standards includes:
Powertrain data;
Additional aerodynamic test data;
Supplemental test data relating to drive cycles (and frequency thereof) for vocational vehicles; and
Cycle average mapping data.
The agencies are soliciting additional comments on certain revised test reports, and a revised version of the Greenhouse Gas Emission Model (GEM) used both in developing certain of the proposed standards and in demonstrating compliance with those standards.
Additionally, EPA is soliciting further comments on memoranda relating to standard applicability and implementation. These memoranda address potential requirements for selective enforcement audits and confirmation testing related to greenhouse gas emissions, and applicability of emission standards and certification responsibilities for trailers, glider vehicles, and glider kits.
Finally, EPA is soliciting additional comments on issues discussed in a late comment related to light-duty motor vehicles used for racing.
Comments must be received on or before April 1, 2016. Submit your comments, identified by Docket ID No. EPA-HQ-OAR-2014-0827 (for EPA's docket) and NHTSA-2014-0132 (for NHTSA's docket) at the Federal eRulemaking Portal.
---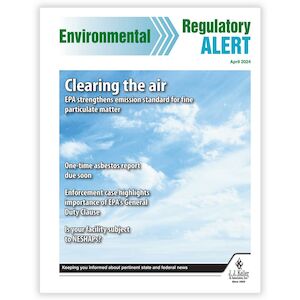 J. J. Keller's Environmental Alert: The Compliance Guide for Safety Professionals helps you stay on top of the latest environmental enforcement issues.
---
J. J. Keller's FREE Workplace SafetyClicks™ email newsletter brings quick-read workplace safety and compliance news right to your email box.