OSHA Region 8 launches noise level enforcement initiative
Posted February 25, 2022
Effective February 15, OSHA Region 8 has launched a noise level enforcement initiative in food, wood product, primary metal, and fabricated metal product manufacturing. Following an outreach period, OSHA will conduct inspections in workplaces where exposures to high levels of noise are expected.
Enforcement activities will begin not earlier than three months after outreach is initiated and will include, but not be limited to, the inspection and review of operations and working conditions, injury and illness records, and safety and health programs to identify and obtain corrections of workplace hazards at all applicable inspection sites.
Outreach activities will include letters to employers, training sessions with stakeholders, electronic information sharing activities, and news release broadcasts.
The emphasis program covers private sector workers in Colorado, Montana, North Dakota, and South Dakota.
This article was written by Rachel Krubsack of J. J. Keller & Associates, Inc.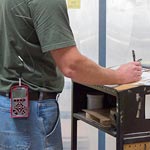 Looking for more solutions on workplace safety?
Get the information and products you need to stay on top of industry changes and comply with regs.