EEOC poster penalty announcement rounds out 2022 increases
Posted February 25, 2022
The maximum penalty for violating the Equal Employment Opportunity Commission's (EEOC) posting requirement will increase to $612 under a final rule published in the Federal Register on February 23, 2022.
The penalty is adjusted annually for inflation. The new maximum penalty reflects a 6.2 percent increase over the 2021 penalty of $576.
The "Equal Employment Opportunity is the Law" poster must be displayed by employers with 15 or more employees. It outlines employee anti-discrimination rights under Title VII of the Civil Rights Act, the Americans with Disabilities Act (ADA), and the Genetic Information Non-Discrimination Act (GINA).
Additional penalties
Employers also face penalties for failing to display labor law posters required by the Department of Labor (DOL). Those maximum penalties increased earlier this year and are:
Family and Medical Leave Act (FMLA) poster: $189
Job Safety and Health: It's the Law (OSHA) poster: $14,502
Employee Polygraph Protection Act (EPPA) poster: $23,011
Effective dates for penalty increases
The new EEOC poster fine level applies to penalties assessed after February 23, 2022. The new DOL fine maximums apply to penalties assessed after January 15, 2022.
Annual adjustments
The maximum fines are adjusted each year for inflation under the Federal Civil Penalties Inflation Adjustment Act Improvements Act of 2015.
While posting fines are typically only levied if an employer willfully and repeatedly violates the law, the fact that federal agencies adjust them each year shows that the agencies take posting compliance seriously.
Why poster compliance is important
Failure to display required labor law posters can be problematic in other ways as well. It can increase an employer's risk of being sued by an employee.
When posters aren't properly displayed, employees are deprived of vital information. They may have additional time to file a lawsuit if they believe their rights have been violated.
Courts have held that if posters are not displayed, the deadline to sue an employer may be extended.
Businesses can stay in compliance and reduce their risk for fines by conspicuously displaying up-to-date labor law posters in areas where employees are likely to view them (such as a break room).
Posting Penalty Summary

Posting Name

2021 fine

2022 fine

Family and Medical Leave Act

$178

$189

Job Safety and Health: It's the Law

$13,653

$14,502

Employee Polygraph Protection Act

$21,663

$23,011

EEO is the Law

$576

$612

Total

$36,070

$38,314
This article was written by Terri Dougherty of J. J. Keller & Associates, Inc.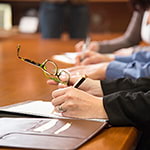 Looking for more on HR compliance?
Get the information and products you need to stay on top of industry changes and comply with regs.