Yes, employees must follow your call-off and FMLA reporting procedures
Posted February 5, 2021
Friends, we've talked about this before, and another court has come through: you may (and should) require your employees to alert you of FMLA leave per your policies. Case in point
An employer required its employees to follow explicit attendance policies and discouraged unscheduled absences. Accumulating too many unscheduled absences in a 12-month period resulted in discipline.
Employees were to first request an FMLA absence to a third-party leave administrator. Once approved/designated, employees were to report an FMLA absence to the employer by calling a designated "call-off" line 24 hours following the absence, indicating the reason (e.g., FMLA, PTO, family sick time). After that, employees still had to report the absence to the third party within 15 days following the absence.
Sally requested and was approved for FMLA leave for various days over a 12-month period. She missed work during those time periods but did not report the absences in accordance with the employer's call-off procedures. After eight unscheduled absences, Sally faced discipline. She requested three retroactive FMLA approval for some absences but still did not report any absences as FMLA. After more unscheduled absences she did not report, Sally was terminated.
Sally sued, arguing that that her request and approval for FMLA leave satisfied the notice requirements, so the company interfered with her FMLA rights when she was terminated.
The court indicated that partially complying with the employer's policies does not constitute notice. She needed to also follow through and report those absences as required by the company policy.
Given this, the court ruled in favor of the employer. The regulations are fairly clear: "An employee must comply with the employer's usual and customary notice and procedural requirements." [§825.302(d)]. This is another argument for having call-in policies and sticking to them.
Soutner v. Penn State Health, 3rd Cir, No. 20-1763, January 13, 2021
This article was written by Darlene Clabault of J. J. Keller & Associates, Inc.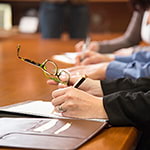 Looking for more on HR compliance?
Get the information and products you need to stay on top of industry changes and comply with regs.