FMLA Manager News!
Posted February 11, 2021
We have made a few updates and want you to be aware that you may see some differences while using the FMLA Manager.
Two federal forms have been updated and the flow to complete the forms have changed. The forms updated are:
Rights & Responsibilities Form (WH-381) and
Designation Form (WH-382).
While some tabs had minor changes in wording, you will see the following larger changes when entering a new leave request to each of the tabs below:
Leave reason tab — changes in selection options
Entitlement tab — additional question regarding hours worked
Certification — additional requirement to select how certification will be supported
Administrative tab — new questions regarding paid leave and updated contact information
Notifications — new or updated options
Any leave request completed before this site update will follow the previous flow.
As always, if you have any questions please contact us at 855-206-2983.
This article was written by Jacqueline Jurmu of J. J. Keller & Associates, Inc.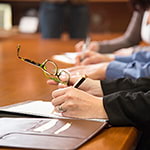 Looking for more on HR compliance?
Get the information and products you need to stay on top of industry changes and comply with regs.