Senators reintroduce legislation to track mercury pollution
Posted February 4, 2019
Senators Tom Carper (D-Del.) and Susan Collins (R-Maine) recently reintroduced the Comprehensive National Mercury Monitoring Act, a bipartisan bill that would establish a national mercury monitoring network intended to protect human health, safeguard fisheries, and track the environmental effects of emissions reductions. The senators previously introduced the bill in August 2018.
Specifically, the Act would:
Direct the EPA, in conjunction with the Fish and Wildlife Service, the U.S. Geological Survey, the National Park Service, the National Oceanic and Atmospheric Association, and other federal agencies, to establish a national mercury monitoring program to measure and monitor mercury levels in the air and watersheds; water and soil chemistry; and marine, freshwater, and terrestrial organisms across the U.S.;
Establish a scientific advisory committee to advise on the establishment, site selection, measurement, recording protocols, and operations of the monitoring program;
Establish a centralized database for existing and newly collected environmental mercury data that can be freely accessed online and is comprised of data compatible with similar international efforts; and
Require a report to Congress every two years on the program, including trends, and an assessment every four years of the reduction in mercury deposition rates that need to be achieved to prevent adverse human and ecological effects.
Mercury exposure at high levels can harm the brain, heart, kidneys, lungs, and immune system of people of all ages, and can be especially harmful to babies and young children.
---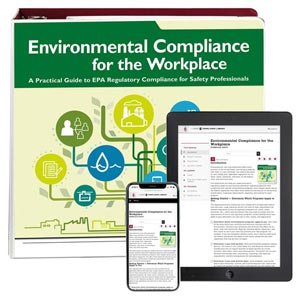 J. J. Keller's Environmental Compliance for the Workplace Manual addresses major environmental issues, including permitting, planning, and training.
---
J. J. Keller's FREE Workplace SafetyClicks™ email newsletter brings quick-read safety and compliance news right to your email box.
Sign up to receive Workplace SafetyClicks™.