Employees may be required to disclose social media information
Posted February 14, 2019
All too often, employees take advantage of powerful leave laws such as the federal Family and Medical Leave Act (FMLA), and a number of them get caught by posting incriminatory information on their social media accounts. If an employer has some evidence that the social media information is relevant to its argument, it may request that the employee disclose it. Case in point
Rafael took FMLA leave during his tenure with his employer. The relationship apparently had some challenges, as he was eventually terminated after 14 years of service. In response, he sued, claiming his supervisor and other managers retaliated against him for exercising his FMLA.
The employer had reason to believe Rafael took the FMLA leave for fraudulent reasons, and it had some evidence to this effect. Therefore, in defending the termination, it asked Rafael to provide information from his social media accounts, including Facebook, Google Photo, and Google location. Rafael refused, so the employer asked the court to mandate that Rafael provide it. The court agreed.
Some situations do allow employers rights to such limited information — as opposed to an employee's entire Facebook or other account. Any sensitive or personal information could also be protected. The employer in this case asked the court only for information for the time Rafael claimed to need FMLA leave because he was unable to work. The employer also sought gym records that suggested that Rafael was working out while on FMLA leave.
Under the circumstances, the court granted the employer's request regarding the social media information because the employer had demonstrated that the information was relevant as it related to Rafael's activities while on FMLA leave. in order to request this evidence, the employer in this case needed to show first from evidence already obtained that the social media accounts from which it was seeking information were likely to yield more evidence that directly related to some specific aspect of Rafael's case or its own defenses. Simply hoping or assuming the information would yield more results is not enough.
Of course, sometimes employees left their social media evidence publicly available, making it discoverable with as little as a simple Google search.
As long as employees keep posting incriminating evidence regarding their fraudulent FMLA leave activities, employers will continue to request the information, even if it isn't publicly available. Employers may want to keep this option in mind when dealing with real or potential FMLA abuse situations. Robinson v. MGM Grand Detroit, LLC, No. 17-CV-13128, E.D. Mich., 1/17/2019
This article was written by Darlene M. Clabault, SHRM-CP, PHR, CLMS, of J. J. Keller & Associates, Inc.
---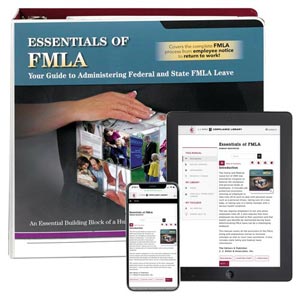 J. J. Keller's Essentials of FMLA manual helps HR pros understand and comply with the FMLA rules, control costs related to leave taken, and minimize the law's potential disruption to their organizations' operations.
---
J. J. Keller's FREE HR SafetyClicks™ email newsletter brings quick-read safety and compliance news right to your email box.