Workplace discrimination cost employers $398 million in 2017
Posted February 6, 2018
The U.S. Equal Employment Opportunity Commission (EEOC) received 84,254 discrimination claims in fiscal year 2017 and settled a total of 99,109 charges (when combined with charges carried over from the previous year). Through voluntary resolutions and litigation against private and public employers, the agency netted $398 million for victims in 2017.
According to a breakdown of charges, retaliation (up 2.9 percent) remained the most common cause for complaint, followed by race (down 1.4 percent) and disability (up 1.2 percent). Notably, the agency also received 6,696 charges of sexual harassment, which garnered $46.3 million in settlements.
Though charges decreased 16.2 percent year over year, the EEOC still fielded more than 540,000 calls and 155,000 in-person inquiries. The complete list of charges is shown below:
Retaliation: 41,097 (48.8 percent)
Race: 28,528 (33.9 percent)
Disability: 26,838 (31.9 percent)
Sex: 25,605 (30.4 percent)
Age: 18,376 (21.8 percent)
National Origin: 8,299 (9.8 percent)
Religion: 3,436 (4.1 percent)
Color: 3,240 (3.8 percent)
Equal Pay Act: 996 (1.2 percent)
Genetic Information: 206 (0.2 percent)
The breakdown adds up to more than 100 because some cases include multiple charges. The reporting window for fiscal year 2017 ended September 30, 2017, and the agency released its year-end data on January 25, 2018.
---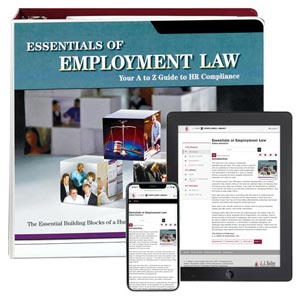 J. J. Keller's Essentials of Employment Law Manual covers more than 100 vital HR topics, including FMLA, ADA, HIPAA, FLSA, COBRA and more.
---
J. J. Keller's FREE HRClicks™ email newsletter brings quick-read human resources-related news right to your email inbox.