Study on driver detention lacks data, OIG reports
Posted February 5, 2018
The effect of driver detention on safety was addressed in a recent report by the U.S. Department of Transportation's Office of Inspector General (OIG). OIG found driver detention affects safety, but current data limit further analysis.
The Fixing America's Surface Transportation Act of 2015 (FAST Act) mandates the Federal Motor Carrier Safety Administration (FMCSA) to issue regulations that cover the collection of data on delays experienced by commercial motor vehicle (CMV) drivers before the loading and unloading of their vehicles. The act also directs OIG to report on the effects of driver detention.
Difficulty in finding data
OIG found that accurate industrywide data on driver detention at the shipper or receiver's facility does not currently exist due to:
Stakeholders only measuring time at a facility beyond the limit established in the shipping contract;
The inability of available electronic data to readily discern detention time from legitimate loading and unloading tasks; and
Lack of available data for a large segment of the industry.
OIG recommends that FMCSA improve the collection of data on driver detention by collaborating with industry stakeholders to develop and implement a plan to collect and analyze reliable, accurate, and representative data on the frequency and severity of driver detention times. FMCSA concurred with OIG's recommendation.
OIG's findings
Based on information available to it, OIG estimates that a 15-minute increase in average dwell time — the total time spent by a truck at a facility — increases the average expected crash rate by 6.2 percent.
In addition, OIG estimated that detention affects both driver and motor carrier earnings. Specifically, driver detention:
Is associated with reductions in annual earnings of $1.1 billion to $1.3 billion for for-hire CMV drivers in the truckload sector; and
Reduces net income by $250.6 million to $302.9 million annually for motor carriers in that sector.
FMCSA stated it is premature to draw empirical conclusions about the impact of driver detention times on crash rates or driver incomes given the limitations of current data sources. OIG's analysis and findings make note of these limitations, but represent, in its view, the best estimates based on available data.
---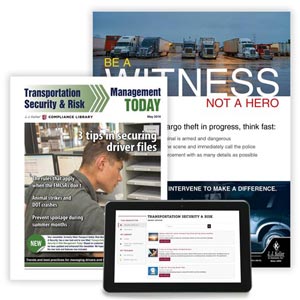 J. J. Keller's Transport Safety Risk Management & Security Newsletter keeps you up-to-date on the latest security and motor carrier safety risk management.
---
J. J. Keller's FREE Transportation SafetyClicks™ email newsletter brings quick-read safety and compliance news right to your email box.