Hazmat crash investigation reveals issues with cargo tank inspections
Posted February 1, 2018
The National Transportation Safety Board (NTSB) issued six safety recommendations as the result of a crash investigation involving a cargo tank vehicle loaded with propane.
According to NTSB, the single-vehicle crash — occurring near Stroud, Alabama, on March 11, 2016 — was the result of the driver overcorrecting after encroaching the southbound lane of County Route 256. Subsequently, the 10,500-gallon cargo tank semitrailer separated from the truck-tractor and struck a rock. The tank was breached and started on fire. The crash seriously injured the truck driver.
NTSB's investigation of the incident also discovered issues with:
Loading of the cargo tank,
Inspection and testing of the tank, and
Qualification and training of cargo tank inspectors.
Even though these issues did not contribute to the crash or the severity of the crash, NTSB believes they still pose a substantial risk to the driving public. As a result, the agency issued the six safety recommendations.
Ensuring the safe shipment of hazardous materials is an issue area on the NTSB's "Most Wanted List of Transportation Safety Improvements."
Recommendations to FMCSA
The Federal Motor Carrier Safety Administration (FMCSA) received two NTSB safety recommendations:
To enhance enforcement of cargo tank requalification procedure, and
To work with the Pipeline and Hazardous Materials Safety Administration (PHMSA) to incorporate, by reference into the Hazardous Materials Regulations, inspector training requirements of industry cargo tank inspection code.
Recommendations to PHMSA
Three safety recommendations were provided to PHMSA, including:
Elimination of a Grandfather provision for less qualified inspectors,
Revision of the definition of registered inspector and ensuring all persons certified to inspect cargo tanks are qualified and competent, and
Implementing regulations that provide for suspension and revocation of cargo tank inspector registrations.
Facility-specific recommendation
One safety recommendation was issued to the facility at which the cargo tank was loaded – to develop and implement an oversight procedure at its liquefied petroleum gas loading facilities.
---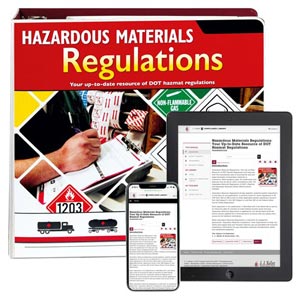 J. J. Keller's Hazardous Materials Regulations Guide has fast, easy access to DOT's word-for-word Hazmat regs, including the §172.101 Hazardous Materials Table.
---
J. J. Keller's FREE Transportation SafetyClicks™ email newsletter brings quick-read safety and compliance news right to your email box.