Hazardous waste biennial report due March 1st
Posted February 7, 2018
Large quantity generators (LQGs) of hazardous waste and treatment, storage, and disposal facilities (TSDFs) are required to submit biennial reports of their hazardous waste activities by March 1st of every even-numbered year. The purpose of the Biennial Report is to collect information on the nature, quantities, and disposition of hazardous waste generated throughout the country.
The Biennial Report form (EPA Form 8700-13A/B) must be submitted to the generator's authorized state agency or EPA regional office and covers the hazardous waste activities for the prior year. The form collects data on a facility's EPA identification number, name and address of the facility, the quantity of waste sent to each TSDF in the U.S., and how the waste was treated during the previous year. Report data is made public on EPA's RCRAInfo website.
This year, EPA's 2017 final Hazardous Waste Generator Improvements Rule (HWGIR) affects reporting for LQGs — at least for those with facilities located in states that have adopted the rule. Mainly, the HWGIR clarifies that LQGs must report on the entire quantity of hazardous waste generated during the reporting year — not just for the month(s) the generator was an LQG. In practical terms, that means if you generated 2,200 pounds of hazardous waste or more in a single calendar month, the biennial reporting requirements apply to you.
In addition, the HWGIR creates a new requirement for LQGs to re-notify their state of their hazardous waste activities every two years along with the Biennial Report. To do this, generators will use EPA's Site Identification Form 8700-12 (the same form used to obtain the site's EPA Generator ID Number).
Note that many states have additional hazardous waste reporting requirements or may require reporting on an annual basis.
---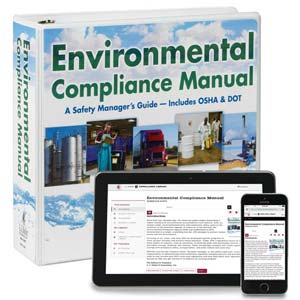 J. J. Keller's Environmental Compliance Manual helps you improve your training techniques and meet OSHA requirements.
---
J. J. Keller's FREE Workplace SafetyClicks™ email newsletter brings quick-read workplace safety and compliance news right to your email box.