Don't disregard mental health conditions
Posted February 15, 2018
According to the CDC, an estimated 50 percent of all Americans are diagnosed with a mental illness or disorder at some point in their lifetime. Mental illnesses are the third most common cause of hospitalization in the U.S. for those aged 18-44 years old, and adults living with serious mental illness die on average 25 years earlier than others.
Mental health includes our emotional, psychological, and social well-being. Therefore, mental illnesses are conditions that affect a person's thinking, feeling, mood, or behavior. There are more than 200 classified types of mental illness, and can include depression, anxiety, bipolar disorder, or schizophrenia. Such conditions may be occasional or long-lasting (chronic) and affect someone's ability to relate to others and function each day.
Double-edged sword
Mental illness, especially depression, increases the risk for many types of physical health problems, particularly long-lasting conditions like stroke, type 2 diabetes, and heart disease. Similarly, the presence of chronic physical conditions can increase the risk for mental illness. When the demands placed on a person exceed that person's resources and coping abilities, their mental health could be impacted. For example, if someone is working long hours or caring for an ill family member, they may experience poor mental health.
FMLA
With these statistics, it's no wonder employers are seeing an uptick in requests for FMLA leave for mental health issues. Given the types of conditions, mental illnesses might last a short period, or may be chronic, lending to intermittent or perhaps reduced schedule leave.
Serious health condition
In order for an employee to be entitled to FMLA leave for a mental illness, the condition would still need to meet the definition of a serious health condition. The employee or family member would need to be incapacitated in some way. If, for example, the situation involved an overnight stay in a health care facility, the condition would be a serious one for FMLA purposes.
If the mental condition involves continuing treatment, it would need to include the following:
A period of incapacity of more than three, consecutive, full calendar days, and any subsequent treatment that also involves -

Treatment two or more times within 30 days of the first day of incapacity by a health care provider, or
Treatment at least once, resulting in a regimen of continuing treatment.

Any period of incapacity (or treatment for) a chronic serious health condition requiring treatments at least twice per year and continuing over an extended period of time. These may cause episodic rather than continuing periods of incapacity.
A period of incapacity for a permanent or long term condition in which treatment may not be effective.
Any period of absence to receive multiple treatments for a condition that would likely result in a period of incapacity of more than three consecutive, full calendar days in the absence of treatment.
This is where a certification comes in. It is designed to provide you with enough information to determine if a mental health condition is a serious one. The name of the condition is not the determining factor. As for any condition, compare the information in the certification with the definition.
With mental health conditions being as common as they are, it helps to be prepared to consider them as you would any serious health condition for FMLA.
---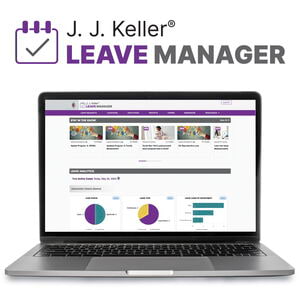 J. J. Keller® FMLA Manager™ Service makes leave tracking easier while complying with the latest federal & state regulations.
---
J. J. Keller's FREE HRClicks™ email newsletter brings quick-read human resources-related news right to your email inbox.