Alabama chiropractor charged with fed med card scheme
Posted February 27, 2018
An Alabama chiropractor and two of his employees were indicted by a federal grand jury in regard to an alleged scheme surrounding the medical qualifications of commercial drivers.
The indictment alleges the chiropractor, acting as a medical examiner in accordance with 49 CFR Part 391, and two associates created a scheme to submit false medical qualification documents to the United States Department of Transportation (USDOT).
After performing driver medical examinations that were not up to US DOT standards, the medical examiner and his staff allegedly sent forms to the US DOT that falsely certified the truck drivers had passed all the physical exam requirements.
All three defendants face conspiracy, wire fraud, and conspiracy to commit wire fraud charges. Additionally, the chiropractor and one of the two employees are charged with making false statements and falsification of federal records.
If convicted of the most serious charges, each defendant faces a maximum sentence of 20 years' imprisonment. There is no parole in the federal system. They also face substantial monetary penalties and restitution.
An indictment merely alleges that crimes have been committed. Each defendant is presumed innocent until proven guilty beyond a reasonable doubt.
---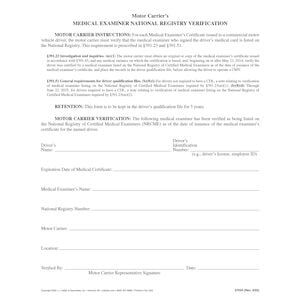 J. J. Keller's Medical Examiner's National Registry Verification helps you comply with DOT's 49 CFR §391.23 and §391.51.
---
J. J. Keller's FREE Transportation SafetyClicks™ email newsletter brings quick-read safety and compliance news right to your email box.