TSCA committee formed to advise EPA on chemical risk assessments
Posted February 14, 2017
EPA announced the formation of a new scientific peer review committee established under the authority of the Frank R. Lautenberg Chemical Safety for the 21st Century Act, the law reforming the Toxic Substances Control Act (TSCA). The Science Advisory Committee on Chemicals (SACC) will provide independent scientific advice and recommendations to EPA on the scientific basis for risk assessments, methodologies, and pollution prevention measures and approaches for chemicals regulated under TSCA. SACC supersedes a similar committee formed in 2015 called the Chemical Safety Advisory Committee.
Panel members are appointed by the EPA Administrator from nominations received through public comment. Members serve for two- to three-year terms. Dr. Kenneth Portier of the American Cancer Society has been appointed as the SACC chairperson.
SACC members are experts in:
Toxicology,
Environmental risk assessment,
Exposure assessment, and
Related sciences (e.g., synthetic biology, pharmacology, biotechnology, nanotechnology, biochemistry, etc.).
According to the SACC charter document, the duties of the committee are solely advisory. Members will provide expert scientific advice, information, and recommendations to EPA's Office of Pollution Prevention and Toxics on the evaluation of new and existing chemicals as required by TSCA.
---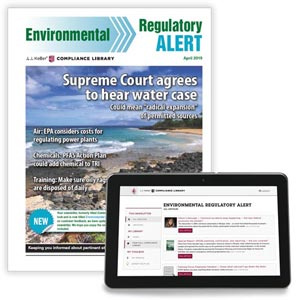 J. J. Keller's Environmental Alert: The Compliance Guide for Safety Professionals helps you stay on top of the latest environmental enforcement issues.
---
J. J. Keller's FREE Workplace SafetyClicks™ email newsletter brings quick-read workplace safety and compliance news right to your email box.