Practice of adding fluoride to drinking water not in jeopardy
Posted February 27, 2017
EPA denied a petition from several consumer and environmental advocacy groups to stop cities from adding fluoride to public drinking water supplies.
The petition, filed under the Toxic Substances Control Act (TSCA) section 21 asks EPA to determine that adding fluoride to drinking water presents an "unreasonable risk of injury to health or the environment." The petitioners argue that the public should be protected from "the neurotoxic risks of fluoride by banning the addition of fluoridation chemicals to water." In addition, the petitioners cited numerous studies supporting their contention that adding fluoride to drinking water presents an unreasonable risk to human health. Further, the groups assert that there is little benefit to swallowing fluoride when the primary benefit from fluoride comes from contact with the teeth.
In denying the petition, EPA points out that the newly revised TSCA requires the agency to conduct reviews of chemicals that present an unreasonable risk to health and the environment. However, TSCA does not require the agency to allow petitioners to promote the review of particular chemicals that are of concern to them above other chemicals that may well present greater overall risk.
EPA also doubted the validity of the evidence the petitioners presented, stating, "EPA does not believe that the petition has presented a well-founded basis to doubt the health benefits of fluoridating drinking water."
To the contrary, EPA argues in favor of adding fluoride to water to protect the public from the adverse effects of poor dental health. "The health benefits of fluoride include having fewer cavities, less severe cavities, less need for fillings and removing teeth, and less pain and suffering due to tooth decay."
---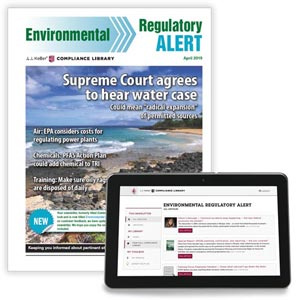 J. J. Keller's Environmental Alert: The Compliance Guide for Safety Professionals helps you stay on top of the latest environmental enforcement issues.
---
J. J. Keller's FREE Workplace SafetyClicks™ email newsletter brings quick-read workplace safety and compliance news right to your email box.