OSHA revises Outreach Training guidelines
Posted February 23, 2017
If you're an OSHA-authorized Outreach Training Program trainer, you know you can lose your training privileges if the classes you teach don't meet OSHA's program requirements and procedures. OSHA has revised these publications with an effective date of April 1, 2017. Don't worry too much, though. The changes mostly consist of more in-depth clarifications of the existing requirements.
Program requirements
The program requirements document includes the following changes.
Section I. Trainer Requirements: Adds references to the Outreach Training Program Investigation and Review Procedures and Outreach Training Program Online Training Procedures documents.
Section IV. Outreach Training Program Contacts: Clarifies that a trainer may have only one Authorizing Training Organization per industry. For example, a trainer may be authorized by one OSHA Education Center for general industry training and a different Education Center for construction training, but a trainer may not be affiliated with two different Education Centers for general industry training.
Section V. Outreach Training Program Requirements:
Part C: Clarifies requirements for exception requests.
Part E: Adds failure to handle student payment and refunds professionally along with a double scheduling prohibition to the Trainer Code of Conduct.
Part F on Training Delivery:

Clarifies that student contact hours don't include breaks, meal time, and administrative time for attendance or tests;
Details how often breaks are required and sets a limit on total class time at 10 hours (including break and meal times);
Changes the minimum time segment for multiple-day classes to 30 minutes (it used to be one hour); and
Clarifies that 10- and 30-hour courses are considered to be stand-alone courses and can't be taught in conjunction with other Outreach Training Program training (the trainer can't count part of a general industry class toward meeting a construction course).

Part I: Adds requirement to provide your contact information to students, present your trainer card at the first class session, and instruct students on how to request a replacement student card.
Part K: Details how to request an exception from the geographic out-of-jurisdiction prohibition.
Part P: Clarifies the class and trainer information to include on the daily student sign-in sheets, indicates that the trainer's (and any guest trainer's) name must be listed on the detailed topic outline by the topics they instructed, and requires the trainer to keep a copy of both sides of each completed student course completion card.
Part R: Deleted provisions on how online providers are authorized and indicated that students attending a video conferencing class must be in a classroom, auditorium, or conference room setting with a proctor present to monitor attendance.
Section VI. Industry-Sector-Specific Emphasis Training: Adds a provision for trainers to submit a written request before conducting such a course.
Section VII. How to Obtain Student Course Completion Cards: Provides more detail on documentation for make-up training and extends to five years the time period that students may request replacement cards (it used to be three years).
Section X. Trainer Watch List: Clarifies that a trainer may not use anyone on the watch list as an assistant or guest trainer.
Procedures documents
The Outreach Training Program Report forms have been slightly modified to allow multiple entries for the course date and time.
The General Industry Procedures document maintains the same topics and hours requirements for 10- and 30-hour classes.
The Construction Industry Procedures document adds a link for lesson plans on the "Focus Four" training topic. It also adds an elective topic: "Foundations for Safety Leadership." If selected, the trainer must spend a minimum of 2.5 hours on the topic. OSHA provides links to training materials for the new elective topic on their website.
---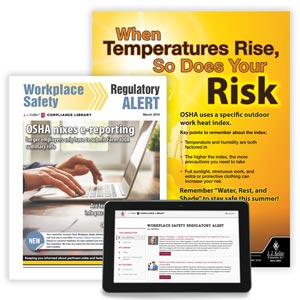 J. J. Keller's Workplace Safety Advisor newsletter delivers up-to-date workplace safety and compliance news every month.
---
J. J. Keller's FREE Workplace SafetyClicks™ email newsletter brings quick-read workplace safety and compliance news right to your email box.