Consider current leave arrangements when enforcing new policies
Posted February 16, 2017
Working out a telecommuting arrangement so that an employee can spend time caring for a child and spend some time working at home can have many benefits. Ending such an arrangement should, however, be based on a good business reason, particularly when the time spent caring for the child is protected by the Family and Medical Leave Act (FMLA).
Case in point
An employee was allowed to work from home for two days a week to care for her autistic son; part of the time she would be caring for him, and part of the time she would be working. The employee was instructed to keep track of her time spent working and time spent caring for her son, as the latter would be FMLA leave. The arrangement was working fine.
The company, however, began having financial troubles, and decided that no one would be allowed to work from home; everyone needed to work a full five-day, 40-hour week on the company's premises. On a Friday, the employee in question was given an ultimatum: She had to show up on Monday through Friday and work at the facility for full weeks, or risk losing her job.
In response, the employee told her employer that she would not be able to find a day care over the weekend; her child was a challenge because of his condition. The company's human resources (HR) officer also incorrectly told the employee that the FMLA covers leave only for doctor's appointments and therapy, not for staying home and providing care. On Monday, the employee explained that she had been unable to find day care. Again, she was told that the first day she didn't work in the office full time, she'd be considered a "voluntary quit." The employee had little choice but to return home to care for her son, and her termination was processed.
The employee sued, arguing that the employer retaliated against her for asserting her FMLA right to take leave necessary to enable her to care for her child for several hours two days per week. The employee's work record was strong, so the company had no reason to terminate her based on her work. The only plausible reason, the court held, was that she could not work five days/40 hours per week.
The FMLA, however, entitles eligible employees to take time off of work for reasons such as caring for a child with a serious health condition. The court determined that the reason the employee was terminated was because her superiors were angry with her for requesting to be allowed to stay home, although that arrangement had been effective up until the termination. The precedent that was set by the work-from-home arrangement was ended for what seemed a non-business related reason.
The court also did not look kindly upon the HR officer's phony line that FMLA can't be used to authorize leave to take care of a child even when obtaining day care for the child is difficult or even impossible because of the child's particular ailment – autism.
The district court ruled for the employee, and the employer appealed to the Circuit court. The Circuit court not only found against the employer, it also increased the employer's fees!
Wink v. Miller Compressing Company, 7th Circuit Court of Appeals, No. 16-2339, January 9, 2017.
This article was written by Darlene Clabault of J. J. Keller & Associates, Inc.
---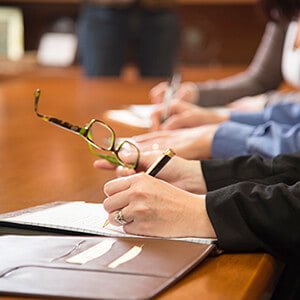 J. J. Keller's Family and Medical Leave Act (FMLA) Consulting Services can help your company ensure compliance with FMLA requirements and minimize the law's burden to your organization.
---
J. J. Keller's FREE HRClicks™ email newsletter brings quick-read human resources-related news right to your email inbox.