Employer health plans must cover at-home COVID-19 tests as of January 15
Posted January 12, 2022
Beginning January 15, individuals with group health plan coverage or private health insurance who purchase over-the-counter COVID-19 tests (such as at-home tests from a pharmacy), can have those test costs covered by their insurance plan.
Insurance companies and health plans are required to cover eight free at-home tests per covered individual per month. That means a family of four, all on the same plan, would be able to get up to 32 tests covered by their health plan each month.
Insurers have the option of covering the test at the point of purchase or reimbursing individuals for the cost of the test. Employers should contact their insurance company to determine how this coverage will work under their plan and communicate that information to covered employees.
The new coverage means that most consumers with health coverage can go online or to a pharmacy or retail store, buy a test, and either get it paid for up front by their health plan, or get reimbursed for the cost by submitting a claim to their plan.
Insurers and group health plans can set up programs that allow people to get the over-the-counter tests directly through preferred pharmacies, retailers, or other stores with no out-of-pocket costs.
Consumers who purchase tests outside of the preferred network must be reimbursed at a rate of up to $12 per individual test (or the cost of the test, if less than $12).
For example, if an individual has a plan that offers direct coverage through their preferred pharmacy, but that individual instead purchases tests through an online retailer, the plan is still required to reimburse them up to $12 per individual test.
There is no limit on the number of tests, including at-home tests, that are covered if these tests are ordered or administered by a health care provider following an individualized clinical assessment, including those for patients who may need them due to underlying medical conditions.
This article was written by Michelle Higgins of J. J. Keller & Associates, Inc.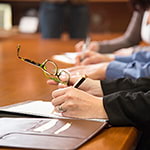 Looking for more on HR compliance?
Get the information and products you need to stay on top of industry changes and comply with regs.