Canada's vaccine mandate effective January 15
Posted January 14, 2022
Canada has not backed down on its COVID vaccine mandate requirement for cross border truckers. The mandate will be effective January 15, as planned.
The mandate requires U.S.-based drivers to be fully vaccinated with before entering Canada. Fully vaccinated means at least a full 14 days have passed since the second dose of the two-dose vaccines or since the single dose of the Janssen/Johnson & Johnson vaccine.
U.S -based drivers entering Canada must also use the ArriveCAN app or website to enter vaccination status up to 72 hours prior to arrival. Using the ArriveCAN app or website to provide health status information has been a requirement since late November 2021.
Canadian citizen drivers returning to Canada
For Canadian drivers entering the United States and returning to Canada, there has been a flurry of last-minute clarifications on the requirements.
Unvaccinated Canadian citizens operating into the United States and returning to Canada are legally allowed to re-enter Canada. However, these drivers will be subject to pre-entry, arrival, and Day 8 testing, as well as quarantine requirements, according to a January 13th statement from the Public Health Agency of Canada.
This article was written by Heather Ness of J. J. Keller & Associates, Inc.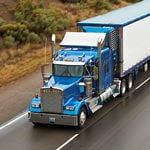 Looking for more on transportation safety?
Get the information and products you need to stay on top of industry changes and comply with regs.