FMCSA proposes guidance on the use of 'yard moves'
Posted January 8, 2021
The Federal Motor Carrier Safety Administration (FMCSA) has proposed guidance concerning recording time when a commercial motor vehicle (CMV) as defined in §390.5 can be operated in "yard move" or on-duty (not driving) status rather than as driving time.
The hours-of-service regulations require a driver to record as drive time, all time operating a CMV on a "highway"(see §390.5), which is any area on public or private property in which public travel is not prohibited via signs or gates.
If authorized by a carrier and when operating a CMV, the electronic logging device (ELD) final rule allows a driver to select the "yard move" special driving category to record on-duty (not driving) time. However, FMCSA did not define a "yard" in the ELD final rule or elsewhere in official guidance.
FMCSA has proposed that a "yard move" or on-duty (not driving) while operating a CMV can be used "only if the movement of the CMV occurs in a confined area on private property (or intermodal facility or briefly on public roads, as described below." (Example number 4 below addresses the use of "yard move" if on a public road.)
Properties that may qualify as yards include, but are not limited to:
An intermodal yard or port facility;
A motor carrier's place of business;
A shipper's privately-owned parking lot; and
A public road, but only if and while public access to the road is restricted through traffic control measures such as lights, gates, flaggers, or other means during the move.
Retail and other locations were not included in the "yard" examples and operational adjustments may be needed to avoid 8-, 11-, or 14-hour driving violations.
Examples of properties that do not qualify as yards include, but are not limited to:
A public road without the traffic control measures in point 4 above.
Public rest areas.
The proposal is open for comment through February 3, 2021, under docket number FMCSA–2020–0118. FMCSA is also asking if there should be more examples added and how "yard" should be defined.
This article was written by Mark Schedler of J. J. Keller & Associates, Inc.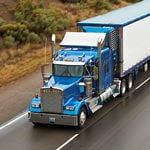 Looking for more on transportation safety?
Get the information and products you need to stay on top of industry changes and comply with regs.